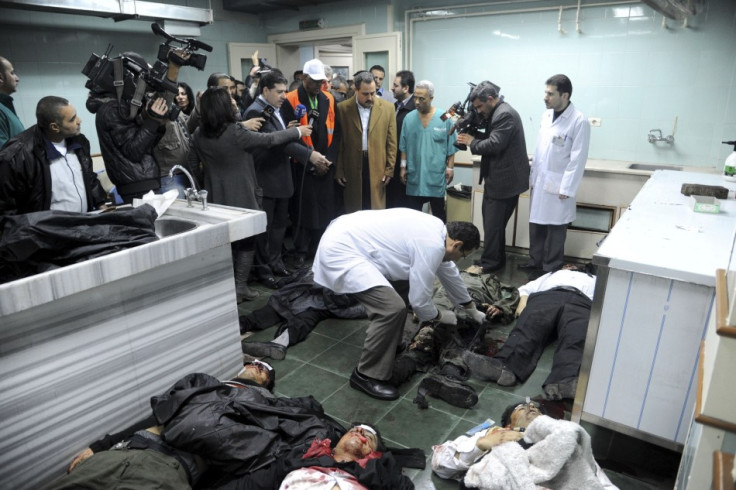 A Red Cross aid convoy meant to deliver food and medicine was turned away by Syrian government forces amid reports of civilian killings in the Homs neighbourhood of Baba Amr.
The Red Cross trucks and Red Crescent ambulances reached Homs after the Syrian authorities gave permission to enter Baba Amr on Thursday but they were not allowed inside the district even after hours of waiting.
"It is unacceptable that people who have been in need of emergency assistance for weeks have still not received any help," CNN quoted Jakob Kellenberger, President, International Committee of the Red Cross, as saying.
"We are staying in Homs tonight in the hope of entering Baba Amr in the very near future. In addition, many families have fled Baba Amr, and we will help them as soon as we possibly can," he added.
The development came as UN Secretary General Ban Ki-moon called for an immediate end to violence and demanded that Syria grant access to humanitarian aid agencies.
"The Syrian authorities must open up to humanitarian communities without any preconditions," said the Secretary General in a press briefing at the UN headquarters in New York. "It is totally unacceptable, intolerable. How as a human being can you bear this situation?" he asked.
At least 75 people, inlcuding 14 civilians have died in Homs and 16 other deaths have been reported from Rastan due to shelling by Syrian forces, CNN reported, quoting the opposition group, Local Coordination Committee of Syria.
Casualties have also been reported from other cities such as Idlib, Hama, Aleppo, Deir Ezzor, Dourna, Daraa and Lattakia, claimed the LCC.
The Syrian government maintained that it has been a victim of extreme violence by opposition groups and indicated that foreign terrorists are behind the attacks.
"We are not claiming that the situation in those regions is perfect; we do not deny that there has been a deterioration in the quality of services provided by the state in those regions, but the primary reason for this is the armed attacks," CNN quoted Bashar Ja'afari, the Syria's UN ambassador, as saying.
World leaders have expressed concern and anguish at aid workers being turned away from Baba Amr.
David Cameron demanded that humanitarian aid be allowed inside Syria and termed the situation in the country as appalling. His comments came while speaking to reporters outside a meeting of leaders of the European Union in Brussels.
The European Union issued a statement demanding an immediate end to the violence and human rights violations occurring in Syria.
The council has recognised the opposition Syrian National Council as the legitimate representative of the Syrian people.