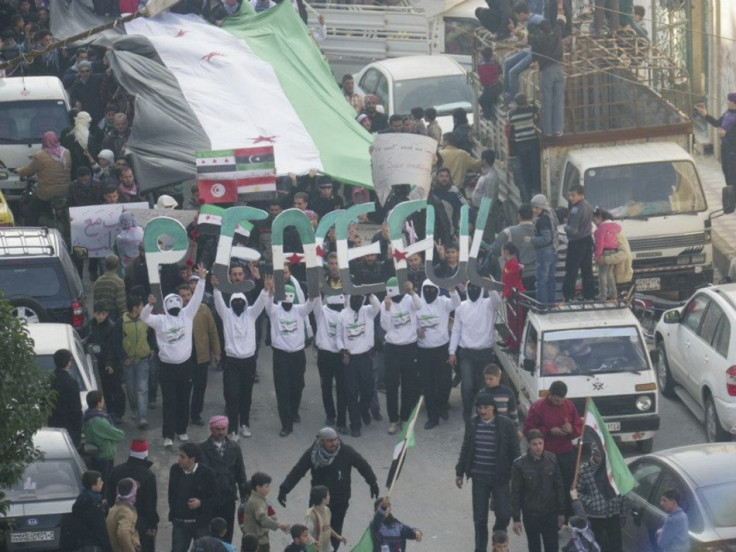 After weeks of hesitation, Syria has finally signed the Arab League plan that will allow foreign observers into the country.
While the agreement was signed in Cairo, Syrian Foreign Minister Walid al Muallem held a press conference in Damascus to explain the move.
"We wouldn't have signed the Arab protocol if it did not preserve Syrian sovereignty," Mr Muallem said, explaining that Russia had asked Syria to sign the agreement aimed at ending months of bloodshed and that "Syria listened to the advice".
The foreign minister also stressed that "it is up to the Arab League to remove the sanctions against Syria".
He said: "Article 8 of the Arab League charter protects existing structures and bans countries from interfering... In this protocol, we are talking about protecting civilians from terrorist groups."
The deal is designed to end the security forces' severe crackdown on protesters as the country teeters on the brink of civil war.
Although the Syrian regime claimed that it was willing to work with the Arab League, it remained reluctant to allow foreign observers into the country despite an international outcry and calls for President Bashar al Assad to step down.
The proposal also calls for the army to withdraw from towns and for the regime to release the thousands of political prisoners that it holds, as well as for a dialogue to take place between the government and opposition forces.
Since the anti-Assad protests began in the country in March, Syria has been accused of conducting a fierce crackdown on protesters, resulting in the deaths of more than 5,000 people, according to the United Nations.
As the president has repeatedly refused to step down, the opposition has become increasingly violent in its struggle and the death toll has risen on a daily basis.
At least 24 people were killed at the weekend, the television station Al Arabiya reported, citing activists.
Despite Syria signing the accord, Arab ministers are due to meet this week to discuss the possibility of asking the UN Security Council to endorse it. This would represent a further opportunity for peace in case Syria does not follow through with its implementation.
"If this matter is not solved in the weeks ahead, or couple of months, it will no longer be in Arab control," Sheikh Hamad bin Jassim al Thani, the Qatari foreign minister, said over the weekend.
"That is what we told the Syrians from the beginning," he added.
Meanwhile, Iraqi Foreign Minister Hoshyar Zebari is also set to hold talks with the Syrian regime and opposition groups in a bid to end the bloodshed.
Protesters have nevertheless warned that they will continue to demonstrate as long as Bashar remains in power.