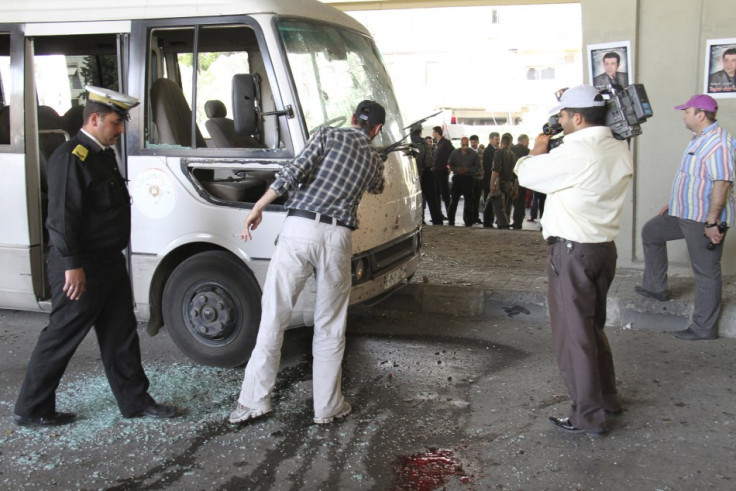 Tearing up the UN-sponsored peace plan into pieces, a suicide bomber exploded at a Damascus mosque killing nine people including security officers on Friday.
The blast occurred when worshippers were leaving the Zain al-Abideen mosque after Friday prayers. The explosion happened despite the heavy security in place at the mosque which has the reputation of being the launch pad for anti-Assad demonstrations after Friday prayers.
According to witness descriptions, a man in a military uniform wearing an explosive vest exploded when he was stopped by security officials.
An interior ministry statement put the number of wounded at 26.
"We had been trying to go to pray in the area but they stopped us at a checkpoint. Security weren't letting us in because there are usually protests there," one anti-Assad activist told Reuters by telephone.
"Then we heard the blast. It was so loud and then ambulances came rushing past us. I could see a few body parts and pieces of flesh on the road. The front of a restaurant looked destroyed. People were screaming," the activist added.
So far no group has claimed responsibility for the incident.
A number of minor explosions were reported in the capital, according to state media.
The latest explosions indicate the violence is spreading to the centre of the capital city which has so far not seen much violence.
"The action is picking up and it seems the (rebels) and Assad's forces are starting to battle it out in Damascus as well," Reuters quoted an activist as saying.
Though the US and the UN blamed the failure of the Assad regime to deliver on the peace plan, Syria's major ally, Russia blamed the opposition for escalating the violence to provoke international intervention.
"This truce has not yet fully set in largely because opposition armed groups try to create provocations - explosions, terrorist acts, shooting at government forces, government buildings, administrative buildings," said Sergei Lavrov, Russia's Foreign Minister on state television on Friday.
Meanwhile, both sides - the government and the opposition - are blaming each other for the ceasefire violations.
The Assad forces committed 86 ceasefire violations after the pace plan came into effect and the number of breaches by the opposition was put at 1,300, according to figures revealed by both sides.
According to UN estimates, over 9,000 people have been killed since the anti-Assad revolt started nearly a year ago. At the same time, the Syrian forces have accused opposition forces of killing over 2,600 military personnel.