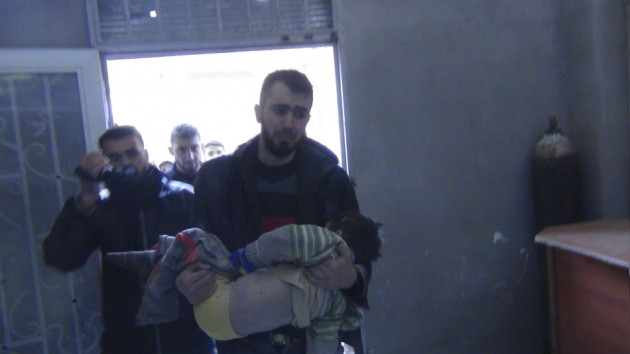 More than 6,000 people have been killed in Syria's civil war during the month of March, making it the "deadliest month" of the two-year conflict so far according to an activist group.
The victims include dozens of women and children, said the UK-based Syrian Observatory for Human Rights.
Of the 6,005 deaths recorded by the group, 1,486 were anti-regime members, while 1,464 belonged to President Bashar al-Assad's troops.
The remainder of those killed were civilians, including 291 women and 298 children.
The death toll in March surpassed the previous bloodiest month, August 2012, during which more than 5,400 people were killed.
Although the Observatory has officially recorded more than 60,000 deaths during the conflict, the head of the group, Rami Abdelrahman, told Reuters that it is an under-estimate.
"We know the number is much, much higher. We estimate it is actually around 120,000 people. Many death tolls are more difficult to document so we are not officially including them yet."
According to UN estimates, more than 70,000 people have been killed in Syria since the uprising. There is a severe clampdown on the movement of media personnel and independent rights groups in Syria, making an independent verification of the accounts difficult.
Abdelrahman, however, added: "There are some groups where it took us longer to get access to sources. For example we started counting deaths much later among the Shabbiha [armed men in civilian clothing who support the Assad regime]."
Abdelrahman said that both pro and anti-regime forces do not want to release the exact death toll, since it could hurt the morale of the fighters. The Syrian regime, which refers to the armed opposition groups as "terrorists," hardly releases death figures.
As both sides fight it out without a clear outcome, the casualties keep rising. Sectarian tensions are also running high, frequently turning the conflict into Sunni-Shiite clashes.
Urging foreign forces to intervene in the conflict, Abdelrahman said: "It seems that Bashar al-Assad is satisfied killing as much as needed to keep his throne. But it also seems that Syrian blood is of no value to Arab or Western powers that have been making promise after promise, while Syrians are led to slaughter."