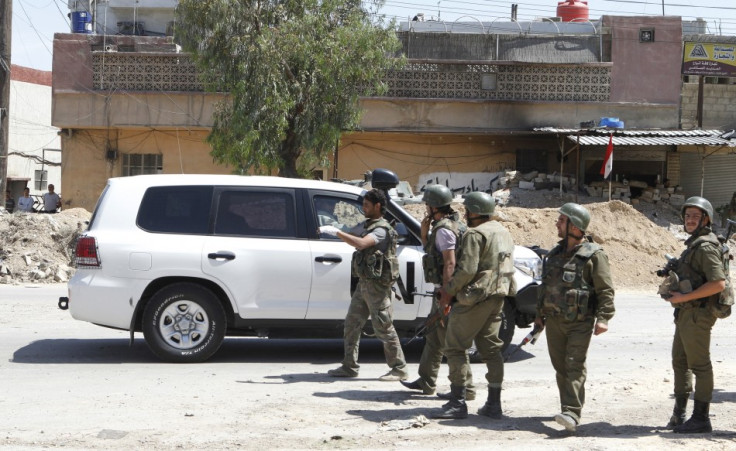 The UN has halved the size of its observation mission in Syria, which was originally supposed to help bring lasting peace to the country.
UN peacekeeping chief Herve Ladsous, who has arrived in Damascus in an attempt to help resolve the current crisis, told reporters that over 150 of the 300 observers who arrived in Syria in April have now left.
The activities of the 150 observers left in Syria remain under suspension until further notice, and they are awaiting further instructions.
The original contingent of 300 observers arrived in Syria in April, with a brief to patrol the country and ensure a ceasefire was honoured by both sides. However the mission was halted in mid-June due to the intensifying conflict between pro-Assad troops and the Free Syrian Army, and has been on hiatus ever since.
On 20 July, the UN security council agreed to extend the mandate of its Syria mission by an extra 30 days, providing extra time to secure a resolution to the conflict. However, if violence between rebels and pro-Assad troops does not abate over the next month, the remaining 150 observers will be sent home.
Civilian exodus
The departure of the UN observers is expected to trigger a further exodus of civilians.
The UN High Commissioner for refugees, Antonio Guterres, told Sky News: "Just to give you an idea, on Wednesday and Thursday, 15,000 people crossed the border into Lebanon; [on] Monday 6,000 people crossed; yesterday 400 per hour, which means we are now seeing a dramatic increase in the number of people fleeing the country.
"We are extremely worried the flows of people fleeing the country will also dramatically increase,"
However Lasdous told reporters that the Syrian civil war "remains of utmost concern to the United Nations, the [UN] secretary general, [and] the Security Council."
Ladsous added that he and his staff "will try to work towards contributing to a political solution which would help alleviate all the suffering."