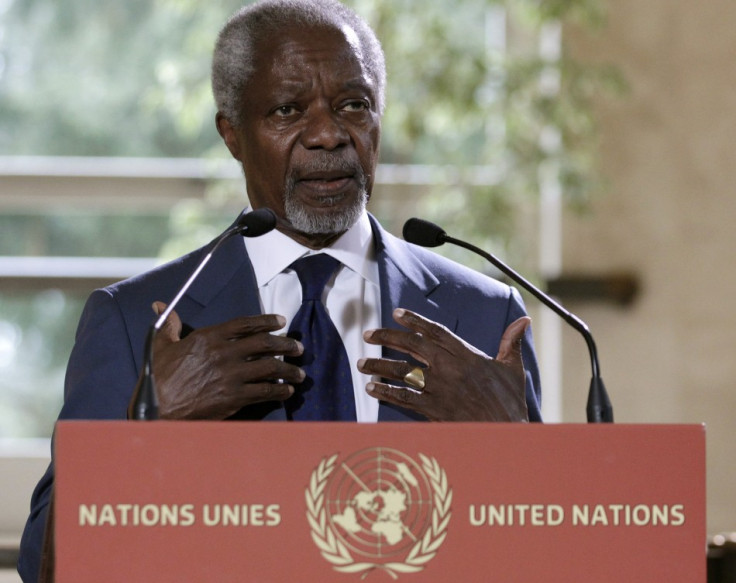 As the Syrian massacre on Friday claimed more than 100 civilians, UN and Arab League special envoy Kofi Annan is likely to visit Syria on Monday, according to reports.
This will be Annan's first-ever trip to the country since early March when he visited to broker the peace plan which is now in tatters.
British Foreign Secretary William Hague will also be travelling to Russia where he is likely to press Moscow for concrete action against the Syrian government.
Annan will be visiting Damascus after the UN Security Council issued a severe condemnation of the bloodshed.
The UN-brokered ceasefire has failed to stop the more than a year-long bloodshed in Syria and the 200-plus UN monitors seem to have made little difference to the ceaseless violence.
"Our urgent priority is to establish a full account of this appalling crime and to move swiftly to ensure that those responsible are identified and held to account," Hague was quoted as saying by the Guardian.
"In Moscow tomorrow [Monday]. Will call on Russia to support rapid & unequivocal pressure on Assad regime and accountability for crimes," Hague tweeted.
Even as the killings have drawn outrage all over the world, Russia's reaction has been rather muted. As the Russians have leverage with the Syrian regime, Hague is expected to insist that Moscow puts more pressure to halt the violence.
"We've had many differences of view over Russia at the Security Council but Russia does support the Annan plan and so I hope Russia will redouble its efforts to get the Assad regime to implement that plan. It's not in the interests of Russia, just as it's not in the interests of anybody in the world, for Syria to descend into an even bloodier situation and into full-scale civil war -- and that is now the danger," the AFP quoted Hague as saying.
The foreign secretary said he spoke to Annan after the massacre and discussed about the quickening of the political process in Syria.
"Certainly if we come to the point where the Annan plan has clearly failed, Britain will be arguing for a stronger response from the world, from the UN Security Council, increasing our support to the opposition, imposing further sanctions and measures on the Syrian regime," Hague said.
Hague will also be meeting other top diplomats in Russia.