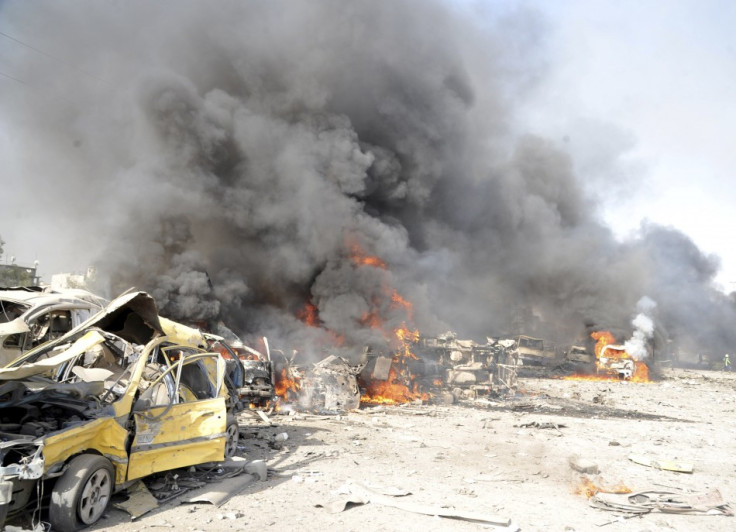 At least 50 civilians including 13 children were killed by the discredited Syrian regime's troops, according to activists.
President Bashar Assad's forces, using tanks and heavy machine guns, attacked the area of Houla in the province of Homs, mostly civilian regions, on Friday.
There was violence in a dozen other places across Homs. Reports suggest the attack involved helicopter gunships, artillery, roadside bombs and small arms.
The toll is one of the highest in the country since the internationally-brokered ceasefire came into effect a month ago.
According to news agencies, more than 100 people were wounded in the attack and some reports claimed the toll could be much higher.
"The soldiers are shelling Houla right now, the casualties are huge," Reuters quoted activist Ahmad Kassem as saying.
The report is based on information provided by both the British-based Syrian Observatory for Human Rights (SOHR) and the Local Coordination Committees activists groups.
An unverified amateur video posted after the violence showed a two-month-old baby bleeding because of the attack.
The video shows the baby crying while people are trying to put bandage on the bleeding wounds.
In another shocking video, scores of dead bodies of children are lined up. The bodies are being covered while their bloodied faces indicate the scale of the violence. The SOHR said a family of six was wiped out as their house took a direct hit, reported the Press Association.
The violence has taken place as UN Chief Ban Ki-Moon urged the UN Security Council to take serious steps to end the bloodshed in the country.
"There is a continuing crisis on the ground, characterised by regular violence, deteriorating humanitarian conditions, human rights violations and continued political confrontation," the UN chief said in a letter, according to the Guardian.
Up to 12,000 people have been killed so far in the more than year-long bloodshed in Syria and the situation does not seem under control even after the deployment of 250 UN observers.