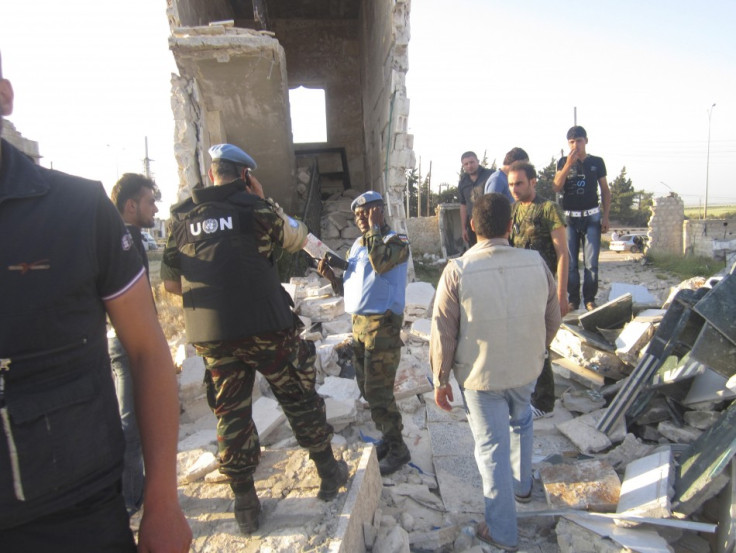 In some of the worst violence since the Syrian uprising, more than 90 civilians have been killed including 32 children in an attack on a single day by the Assad regime's forces.
UN observers in Syria counted at least 90 bodies after President Bashar al-Assad's forces attacked towns across the province of Homs on Friday.
"UN military and civilian observers went to Houla and counted more than 32 children under the age of 10 and over 60 adults killed," said the head of UN team in Syria, Gen Robert Mood.
"The observers confirmed from examination of ordnances the use of artillery tank shells. Whoever started, whoever responded and whoever carried out this deplorable act of violence should be held responsible."
A shocking video showed the corpses of half a dozen children covered with blood.
The children included babies just a few months old. Although the video is unverified, reports indicate it would have been difficult to fake the images.
The attack had drawn criticism from leaders all over the world. Both Washington and London condemned the incident.
The UN Secretary General Ban Ki-Moon and special envoy Kofi Annan issued a joint statement strongly condemning the attack.
"This appalling and brutal crime involving indiscriminate and disproportionate use of force is a flagrant violation of international law and of the commitments of the Syrian government to cease the use of heavy weapons in population centres and violence in all its forms.Those responsible for perpetrating this crime must be held to account," they said.
The Syrian government blamed the massacre on terrorist gangs.
The deployment of more than 200 UN observers in Syria has made no difference to the violence.
According to UN estimates, more than 9,000 people have been killed in a year of violence.