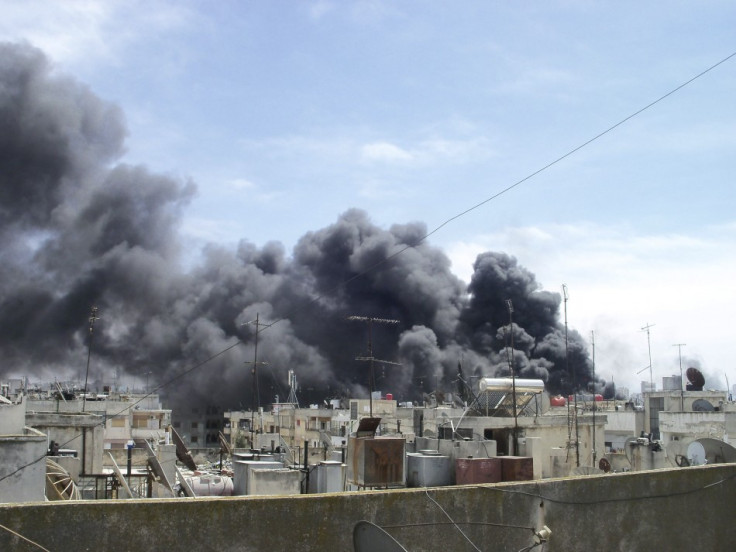 The UN Security Council has strongly condemned Friday's Syrian massacre that killed more than 100 civilians including 34 children.
The bloodshed which also wounded 300 people has been drawing strong criticism from leaders across the world.
"The members of the Security Council condemned in the strongest possible terms the killings, confirmed by United Nations observers, of dozens of men, women and children and the wounding of hundreds more in the village of El-Houleh, near Homs, in attacks that involved a series of government artillery and tank shelling on a residential neighbourhood," said the Security Council statement.
The council unanimously adopted the non-binding statement in order to urge the Syrian regime to stop attacking residential areas with heavy weapons.
The council called the violence outrageous and once again demanded that the Syrian government halt violence in all forms. Those responsible for the violence should be held accountable, said the statement.
Syrian ambassador to the UN, Bashar Jaafari, said there was a slight exaggeration in terms of the involvement of the Syrian government in the mass killings.
"Neither [UN observer mission head Maj Gen Robert] Mood nor anybody else told the Security Council in the informal session that he would blame the Syrian government forces for what happened.
"It is really pitiful and regrettable that some members of the council came out just a few minutes after Gen Mood had finished his briefing to mislead you, to tell you lies about what happened," Jaafari said, according to the BBC.
Mood said the UN monitors who are on a mission on Syrian soil said: "[The monitors] viewed the bodies of the dead and confirmed from an examination of ordnance that artillery and tank shells were fired at a residential neighbourhood," reported Reuters as the opposition forces do not have artillery or tanks.
As leaders from London, Washington and Paris urged quick action in response to the violence, Syria's key ally Russia preferred to toe a cautious line.
"It still remains unclear what happened and what triggered what. We understand that the village [Homs]...was not under the control of the government forces. We understood that there was a lot of demonstration in one of the districts of this village and allegedly firing and shelling started afterwards," the Guardian quoted Russia's deputy UN ambassador, Alexander Pankin, as saying.
As outrage over the massacre grew, there were fresh reports of violence that claimed at least 30 lives on Sunday in the city of Hama. Unverified amateur videos accused President Assad's forces of the bombings.