Syrian Conflict: UN Suspends Observers' Operations
UN observers came under fire a few days back, although none of them were reported hurt.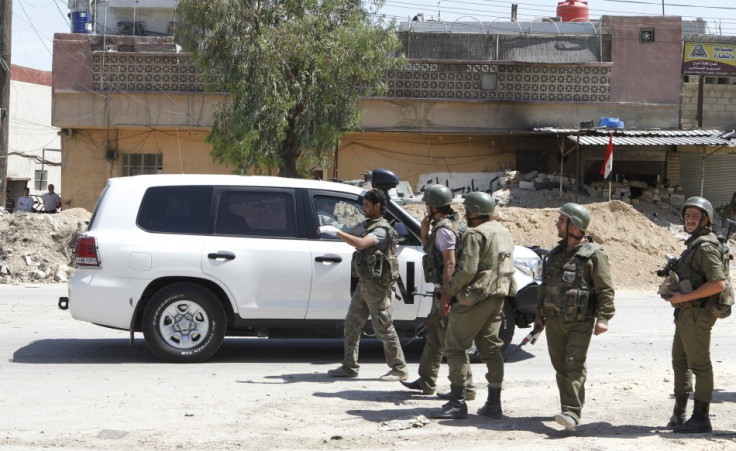 The West is urging the international community to take severe steps as UN monitors in Syria decided to wind up their operations citing safety issues.
The ever-escalating violence in Syria halted the movement of the UN observers on Saturday indicating the conflict is no way near to being over.
Chief of the monitors' team in Syria General Robert Mood said the violence taking place in the region is posing a threat to life of the unarmed observers.
The observers came under fire a few days ago, although none of them was injured.
The blame has to be shared by both the pro- and anti-government forces, said Mood. "There has been an intensification of armed violence across Syria over the past 10 days. The lack of willingness by the parties to seek a peaceful transition and the push towards advancing military positions is increasing the losses on both sides," Reuters quoted Mood as saying.
Meanwhile, in several bloody incidents more than 60 people were in killed on Saturday across the country.
According to reports, at least ten people were brutally murdered in the town of Saqba, near Damascus.
The situation has drawn severe condemnation from both Washington and London and both have urged the international community to take serious steps in the next few days.
"I regret that it has been necessary for the UN Mission to decide to suspend patrols and to restrict staff movements due to escalating violence in Syria. This underlines the extent of the deterioration of security and stability in Syria, and calls into serious question the viability of the UN Mission," said Foreign Secretary William Hague.
Hague blamed the Assad regime for the current situation and urged rebel forces to shed their weapons.
The White House also advocated immediate steps to tackle the situation. "At this critical juncture, we are consulting with our international partners regarding next steps toward a Syrian-led political transition as called for in Security Council resolutions," the BBC quoted White House spokesperson Tommy Vietor as saying.
The West has been suggesting armed military intervention in Syria which has been strongly opposed by Syria's key allies Russia and China.
© Copyright IBTimes 2023. All rights reserved.