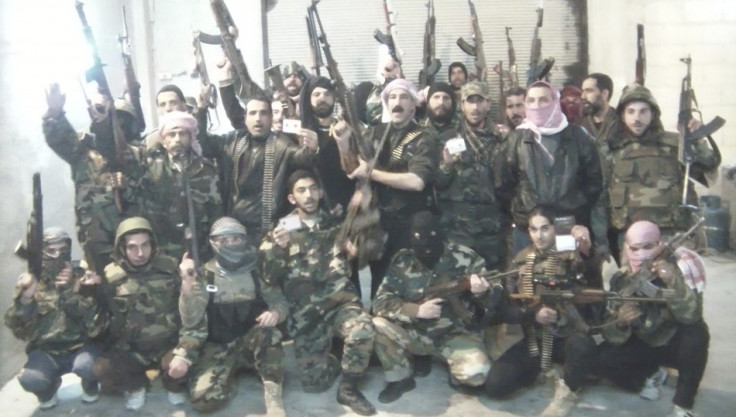 The Syrian uprising is degenerating into a major sectarian conflict, a rebel Sunni soldier has warned after he admitted being involved in the killing and kidnapping of members of the minority Alawite sect.
Waki Khaled, who defected from the regime's military forces to join the Free Syrian Army (FSA), said Sunni majority rebels kidnapped Alawites to be used as bargaining chips despite orders from above not to harm Alawite residents.
In a series of revelations about the guerrilla tactics employed by FSA soldiers, Khaled said his regiment kidnapped the Alawites to persuade the regime to free Sunni opposition prisoners.
"In one incident, two Sunnis from Tal Kalakh were passing through an Alawite village and were stabbed to death," he said.
"We set up a checkpoint on the edge of the village. A car approached with three Alawites in it. One of them tried to run away so we shot and killed him. We held the other two and swapped them for our prisoners.
"We needed to catch Alawites to avenge the two men stabbed in their village and to win the release of our people," he explained.
The rebel soldier admitted his regiment had received direct orders not to harm Alawite residents, but said the conflict has started to become sectarian due to the regime's own tactics.
Khaled, a sniper in the 300-strong Martyrs of Tal Kalakh Brigade, said the rebels relied on support in the villages.
"Wherever we go, people help us," he said. "They take us into their houses in twos or threes and in this way 200 fighters can disappear."
They use guerrilla tactics to keep one step ahead of the much stronger Syrian army, he added.
"We have codes for different radio frequencies so that we can switch channels regularly and we move position after we have been talking in case the army tracks our location."
TheFSA is hampered by a severe lack of weapons and ammunition, Khaled said, although weapons can be bought on the quiet occasionally from army officials. "Every time we fire a shot, we have to think carefully about where that bullet is going."
Originally a soldier in Syria's air defence, Khaled wanted to leave because he disagreed with the crackdown on protests.
"Although I was a soldier, the killings [of protesters] were too much for me," he said.
He was granted leave in 2011 and went to Tal Kalakh, a city close to the border with Lebanon, where demonstrations had been organised against the Syrian regime. Despite being in the army, he joined the protesters. When he went back to his base in Damascus, he was arrested, locked in solitary confinement and frequently tortured.
"During interrogations they would suspend me by my wrists from the ceiling so that my toes were barely touching the ground. They would keep me in that position for hours," Khaled said.
Three months later he was released and sent to the remote Hasak region in northern Syria. He escaped and returned to Tal Kalakh, where he joined the FSA.