Syrian Electronic Army Cyber Attacks Continue With US Marines Hack
The pro-Assad Syrian Electronic Army has continued its series of cyber-attacks this time targeting the US Marines website calling on its "brothers" not to intervene in the struggle.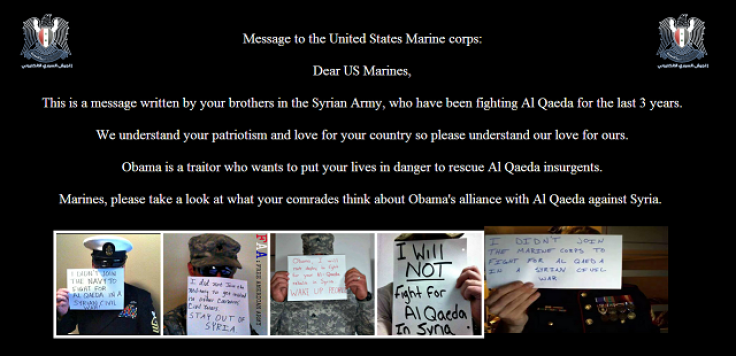 The Syrian Electronic Army (SEA) has been highly active over the last six months targeting media outlets it believes are reporting untruths about what is happening in Syria. The group, which supports President Bashar al-Assad, last week claimed responsibility for attacks on the New York Times and Twitter - as a result of the group's official Twitter account being suspended.
Must Read: Assad's Anonymous Cyber-force: Who is the Syrian electronic Army?
However the group turned its attention to the US Marines, who could potentially be drawn into the civil war in Syria, though President Barack Obama on Sunday was branded as "hesitant and confused" by the Assad regime over his plans to wait for Congressional approval before launching any air strikes against regime targets.
The SEA defaced the marines.com website early on Monday morning but at the time of publication the website had returned to normal. As well as posting a lengthy message to its "brothers" in the US Marine Corps, the SEA posted a series of pictures purporting to show soldiers in uniform holding up written messages protesting Us involvement in Syria.
Unlike messages posted on the websites and Twitter accounts of media outlets it has targeted, the SEA's message to US marines called on them to view Assad's forces as brothers-in-arms, claiming a strike against the regime's targets would aid al-Qaida's efforts in the region.
The full text of the message reads as follows:
"This is a message written by your brothers in the Syrian Army, who have been fighting al-Qaida for the last 3 years. We understand your patriotism and love for your country so please understand our love for ours. Obama is a traitor who wants to put your lives in danger to rescue al- Qaida insurgents.
Marines, please take a look at what your comrades think about Obama's alliance with al-Qaida against Syria. Your officer in charge probably has no qualms about sending you to die against soldiers just like you, fighting a vile common enemy. The Syrian army should be your ally not your enemy.
Refuse your orders and concentrate on the real reason every soldier joins their military, to defend their homeland. You're more than welcome to fight alongside our army rather than against it.
Your brothers, the Syrian army soldiers. A message delivered by the SEA"
In an email interview with the BBC, an SEA spokesman warned media outlets reporting on the conflict in Syria to "expect us" and that the group had "many surprises" planned.
He added: "Military intervention in Syria has many consequences and will affect the whole world. Our main mission is to spread truth about Syria and what is really happening."
READ: Syria Hacks US Marine Website 'Impersonating' Military Personnel
© Copyright IBTimes 2023. All rights reserved.