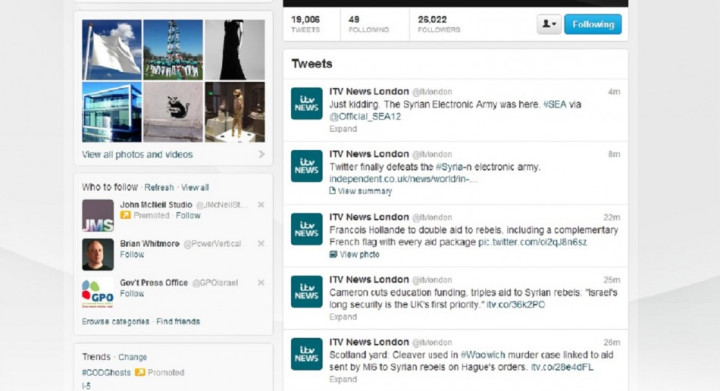 A group supporting the Syrian regime of Bashar al-Assad hacked the ITV London Twitter account.
The Syrian Electronic Army (SEA) tweeted a series of ironic and pro-Assad messages using the @itvlondon of the British broadcasting company this afternoon, as ITV London newsroom was updating its followers on the chaotic situation at two local airports.
"Scotland Yard: cleaver used in #Woolwich murder case linked to aid sent by MI6 to Syrian rebels on Hague's orders," SEA tweeted disguised by ITV.
In other tweets the group claimed rebels were routing from the decisive battle for the city of Qusair, off the Lebanese border and that French president Hollande was sending "complementary French flags" as part of aids to Syrian rebels. A photo of a white flag was attached.
"Cameron cuts education funding: triples aid to Syrian Rebels: "Israel's long security is the UK first priority," another tweet read.
The hacking was claimed by the SEA that signed its stunt in a last message.
"Just kidding. The Syrian Electronic Army was here," the group tweeted. The messages were later deleted by ITV.
"ITV News London Twitter account was compromised for a short time but has now been secured and the Tweets have been deleted"," ITV said.
The attack was the last in a string of high profile hackings perpetrated by SEA against western media outlets.
Earlier this month, the propaganda group hacked the Financial Times website and twitter account.
A number of headlines on the FT's website were replaced with: "Hacked By Syrian Electronic Army" and messages on the newspaper's Twitter feed read: "Do you want to know the reality of the Syrian Rebels?"
In April, SEA claimed responsibility for the Associated Press Twitter account hack which said President Barack Obama had been injured in an explosion at the White House and caused share prices on the Dow Jones average plunge briefly before the news was proved false.
In other recent attacks the group posted a series of graphic images on Agence France Press news agency's photo Twitter account and hacked Reuters' blogging platform.
SEA does have its own Twitter account, after repeated suspensions. The current account is thought to be the seventh incarnation.
The group describes itself on its website as: "A group of enthusiastic Syrian youths who could not stay passive towards the massive distortion of facts about the recent uprising in Syria, and this distortion is carried out by many Facebook pages that deliberately work to spread hatred and sectarian intolerance between the peoples of Syria to fuel the uprising."
ITV London reports were focusing on the emergency landing of a plane at Heathrow airport this morning and on a later incident onboard a Pakistan International Airlines passenger aircraft at Stansted.