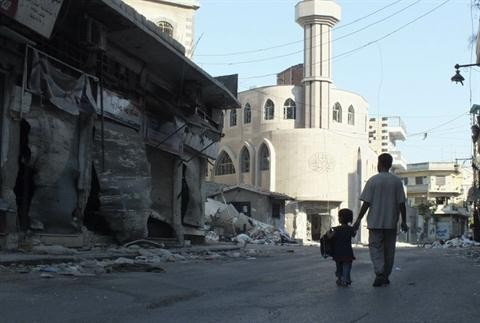 At least 40 people have been killed and a further 140 injured in Syria's central province of Hama, according to opposition activists.
The Syrian National Council (SNC) claims government troops, together with members of the Shabiha militia which supports President Bashar al-Assad, bombarded the small town of Harbnafsa for several hours.
"Regime forces bombarded the town with tanks and heavy weapons for five hours straight," the SNC said. "They then stormed the town."
The group said accused the government of "criminality and desire to commit murder and instil terror".
"The military and security services, as well as the shabiha [loyalist militia] from nearby villages, chased fleeing townspeople with knives and live ammunition," said the rebels.
The SNC described the move as a massacre and said it was part of "a clear policy of displacement".
The UK-based Syrian Observatory for Human Rights (SOHR) confirmed at least 11 deaths, including five children.
Massacres have taken place in rural areas in Hama throughout the uprising. In July 220 people, mostly civilians, were killed, prompting an international outcry.
In addition to the latest incident, it is reported that Syrian troops have killed at least 40 armed rebels in the province of Homs, with several more injured.
More violence
In Damascus, government forces were coming under increasing pressure from the rebels.
A bomb ripped through the third floor of the Syrian state television building, one of the key hubs of the Assad regime. Although transmissions from the pro-government television networks were not affected, at least three people were injured.
Minutes after the blast, Syrian officials announced that Prime Minister Riyad Hijab had been fired. However, Hijab's spokesperson said he had defected to "join the revolution".
The SNC later confirmed that two ministers and three army officers have defected to Jordan along with Hijab.