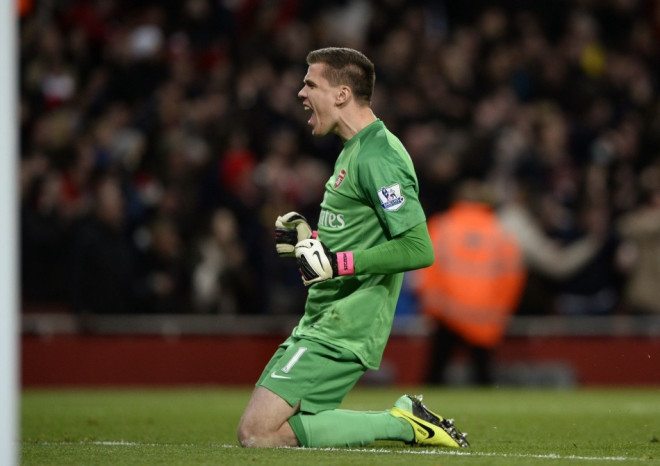 Arsenal goalkeeper Wojciech Szczesny has revealed that he had asked the club's equipment manager, Paul Johnson, to carry his cellphone, using which the Pole, alongside Kieran Gibbs and Lukas Podolski, clicked a selfie on the pitch at White Hart Lane, which went viral after it was uploaded on the internet.
The Gunners completed a treble over Tottenham this season while keeping a clean sheet on all three occasions, the first time ever under Arsene Wenger and since the 1988/89 season where they won the title on the final day at Anfield.
Arsenal rode on the back of a first-minute strike from Tomas Rosicky, which is likely to be nominated among the best goals of the season, for its sheer pace and accuracy.
The move came about owing to the blistering pace of Alex Oxlade-Chamberlain who carried the ball forward, played a 1-2 with Rosicky before eventually losing control of the ball.
However, the Czech international was on his toes as he hit the ball on the volley past an outstretched Hugo Lloris as the Gunners held on to the top spot, with nine games to go till the end of the season.
Szczesny, who survived two scares in the space of a minute after failing to handle the ball in the box, was saved by the brilliance of his two centre-backs, who threw their bodies on the line to prevent Arsenal's goal from rippling.
"I asked Paul Johnson [our equipment manager] to bring my phone on to the pitch after the game and grabbed a selfie with the Arsenal fans, which was brilliant. They were fantastic all afternoon. They sang their hearts out and I am sure they enjoyed themselves. It was fantastic for us too and we wanted to give something back to them," Szczesny told www.arsenal.com.
"We were fantastic defensively. We scored early so they were always going to dominate the possession. But the two centre backs were outstanding then Thomas Vermaelen came on and we played with three centre back. He did well as well.
"Overall it was a huge win for us. We knew that Chelsea had dropped points against Villa and we have to take advantage of that. It was very pleasing to get a win at White Hart Lane after quite a few years," he concluded.