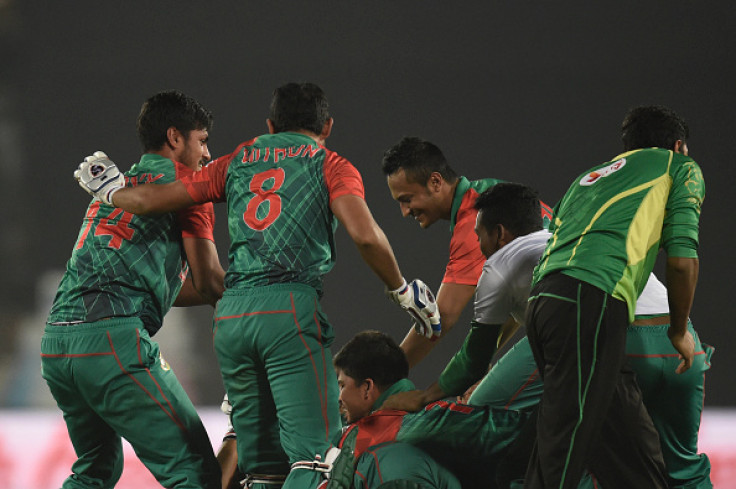 Click here to read the T20 World Cup 2016 full fixture list, date, time and venue
The 2016 ICC World Twenty20 will kickstart on 8 March in India as eight teams will feature in the final round of qualifiers to make it to the first round of the tournament. Asia Cup 2016 finalists Bangladesh join the Netherlands, Ireland, Oman, Scotland, Zimbabwe, Afghanistan and Hong Kong for the qualifiers.
These eight teams are divided into two groups, Group A and Group B. Bangladesh, the Netherlands, Ireland and Oman are placed in Group A, while Group B includes Scotland, Zimbabwe, Afghanistan and Hong Kong. The winner of each group will progress to the group stages of the T20 World Cup.
IBTimes UK brings you the schedule for the qualifying stages of 2016 ICC World Twenty20. It includes the dates, the time and the venues. Following is the list along with the tables and how to follow the match live.
Where to watch live
Live coverage of the T20 World Cup will be on Sky Sports 2 and Sky Sports 2 HD in the UK. Star Sports 1 and Star Sports 3 will telecast it in India. Click here for the live streaming link.
Group A
Bangladesh
Netherlands
Ireland
Oman
Group B
Scotland
Zimbabwe
Afghanistan
Hong Kong
Fixtures
Match 1: Zimbabwe v Hong Kong, Group B
Date and Time: 8 March, Tuesday - 9:30am GMT/3pm IST
Venue: Vidarbha Cricket Association Stadium, Nagpur
Match 2: Scotland v Afghanistan, Group B
Date and Time: 8 March, Tuesday - 2pm GMT/7:30pm IST
Venue: Vidarbha Cricket Association Stadium, Nagpur
Match 3: Bangladesh v Netherlands, Group A
Date and Time: 9 March, Wednesday - 9:30am GMT/3pm IST
Venue: HPCA Stadium, Dharamsala
Match 4: Ireland v Oman, Group A
Date and Time: 9 March, Wednesday - 2pm GMT/7:30pm IST
Venue: HPCA Stadium, Dharamsala
Match 5: Scotland v Zimbabwe, Group B
Date and Time: 10 March, Thursday - 9:30am GMT/3pm IST
Venue: Vidarbha Cricket Association Stadium, Nagpur
Match 6: Hong Kong v Afghanistan, Group B
Date and Time: 10 March, Thursday - 2pm GMT/7:30pm IST
Venue: Vidarbha Cricket Association Stadium, Nagpur
Match 7: Netherlands v Oman, Group A
Date and Time: 9 March, Friday - 9:30am GMT/3pm IST
Venue: HPCA Stadium, Dharamsala
Match 8: Bangladesh v Ireland, Group A
Date and Time: 9 March, Friday - 2pm GMT/7:30pm IST
Venue: HPCA Stadium, Dharamsala
Match 9: Zimbabwe v Afghanistan, Group B
Date and Time: 10 March, Saturday - 9:30am GMT/3pm IST
Venue: Vidarbha Cricket Association Stadium, Nagpur
Match 10: Scotland v Hong Kong, Group B
Date and Time: 10 March, Saturday - 2pm GMT/7:30pm IST
Venue: Vidarbha Cricket Association Stadium, Nagpur
Match 11: Netherlands v Ireland, Group A
Date and Time: 9 March, Sunday - 9:30am GMT/3pm IST
Venue: HPCA Stadium, Dharamsala
Match 12: Bangladesh v Oman, Group A
Date and Time: 9 March, Sunday - 2pm GMT/7:30pm IST
Venue: HPCA Stadium, Dharamsala