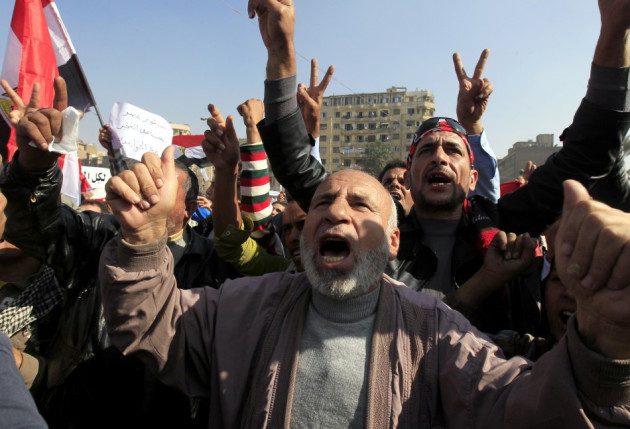 Hundreds of anti-government protesters were gathering in Tahrir Square's tent city to hold Friday prayers after an Islamist-led panel approved a controversial draft constitution without the participation of liberal and Christian members.
The opposition has called for a major rally to protest against President Mohammed Mursi's sweeping new powers, which critics say make him into a modern-day pharaoh. People broke into chants of "The people want to bring down the regime!".
The panel rushed to vote on the constitution after months of consultations in order to pre-empt a court ruling that could dissolve the body.
For weeks liberal, secular and Christian members have been protesting against the Islamists, who they accuse of dominating the process of drawing up a new constitution for the country.
"This constitution represents the diversity of the Egyptian people. All Egyptians, male and female, will find themselves in this constitution," Essam el-Erian, a representative of the Muslim Brotherhood, told the national assembly after the last articles of the draft constitution were approved.
"We will implement the work of this constitution to hold in high esteem God's law, which was only ink on paper before, and to protect freedoms that were not previously respected," he said
The assembly brought forward voting on the draft by two months in what has been seen as a pre-emptive move against a Supreme Constitutional Court ruling on Sunday on whether to dissolve the panel.
Rights activists, liberals and Christians fear that the draft will lead to restrictions on the rights of women and minorities.
Among the most controversial articles, the draft says that the "principles of Islamic law" will be the basis of national law. However, this does not mean Egypt will adopt sharia law in its entirety
Other critical points:
Al-Azhar, Egypt's most respected Islamic institution, must be consulted on any matters related to sharia
The state will protect "the true nature of the Egyptian family and promote its morals and values"
The state will ban any insult or defamation of the Prophet and messengers and ensure people's dignity by banning "insulting humans"
The constitution also preserves the right of the military to try civilians before military tribunals for crimes that harm the armed forces without restrictions.