Taiwan will build a fleet of 66 indigenous jet trainer aircraft to bolster defences and to continue developing the country's aerospace industry. The announcement comes amid increasing tensions between the island nation and China, which claims Taiwan as its own territory.
The entire fleet is expected to be built by 2026, with the first likely to be ready in the next three years, a quasi-defence ministry research agency involved in the jets' development said on Tuesday (7 February).
The National Chung-shan Institute of Science and Technology added that defence ministry and Aerospace Industrial Development Corp – Taiwan's sole military jet-maker, will also be involved in building the fleet. The institute expect the first aircraft to take flight by 2020.
Addressing a signing ceremony for the ambitious project, Taiwanese President Tsai Ing-wen said: "Investing over T$68bn [£1.7bn, $2.2bn] in new model advanced jet trainers, not only lays the foundation for the development of our future air combat capability, but also lets our aerospace industry continue to develop."
She was referring to the amount that the defence ministry viewed to spend over the next 12 years on developing indigenous jet trainers. The defence ministry approved the amount in the 2017 budget released recently.
Tsai added that the country does not have "another 30 years to waste", referring to the stagnation Taiwan's jet-making capabilities witnessed in the past three decades. The last time the island country developed and produced indigenous fighter planes was in the 1990s.
According to Reuters, Taiwan's Indigenous Defence Fighters (IDFs) combat aircraft programme ended in 1999-2000.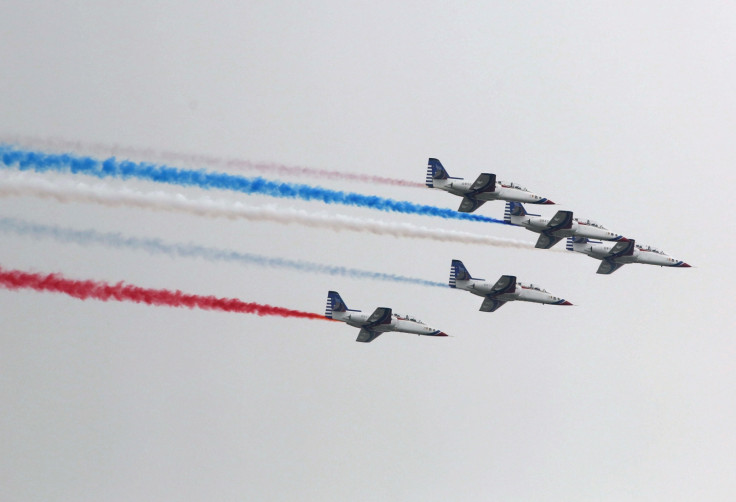 Taiwan, whose air defence mainly comprises the IDFs, French-built Mirage and US' F-16 fighter jets, has reportedly said that the jet trainers it is building will only be used to prepare pilots for combat aircraft, the Reuters report said.
Taiwan recently irked the Beijing administration after Tsai held a telephone call with newly-elected US President Donald Trump in November and later, transited through the US during her visit to Central American nations in January.
Trump, too, attracted China's criticism over his resistance to respect "One China" policy - a years' old understanding between the US and Chinese governments under which Taiwan, or officially the Republic of China is considered as part of Chinese territory.