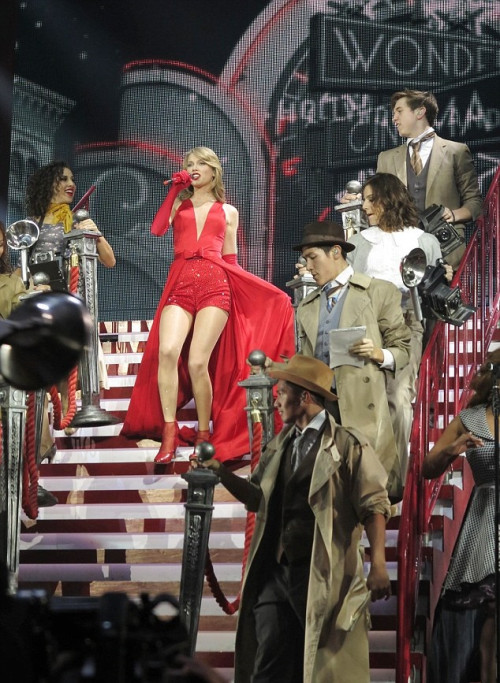 Taylor Swift has been painting the town red ... literally.
The US star turned scarlet woman as she kicked off the European leg of her Red! world tour at London's 02 arena.
Writing on Twitter earlier she said: "About to put on my hat and walk/frolick to the stage for our first of five shows at the O2 in London!! #REDTourLondon"
The 24-year-old made a dramatic entrance in a striking red cape dress with sequin hot pants, and with her hair in glamorous Hollywood waves for the opening track of the show, which featured a nod to Broadway with its classic 50s styling and choreographed sequences.
The show included a series of quick fire costume changes, as Swift channelled Michael Jackson in a military styled jacket with black hot pants and again, donned a pair of black hot pants, a fitted white shirt, a black fedora hat and a pair of red brogues.
She later tapped into her girly side wearing a ballerina's tutu and a dramatic floor length white gown.
The I Knew You Were Trouble singer, who is known as much for her high profile relationships as she is for her singing, hinted at the personal experiences that informed her song writing.
"No matter how hard you try you can't make someone like you if they don't and that's okay," she said.
"To get over it in my case it's going into my room, grabbing a banjo and writing about it."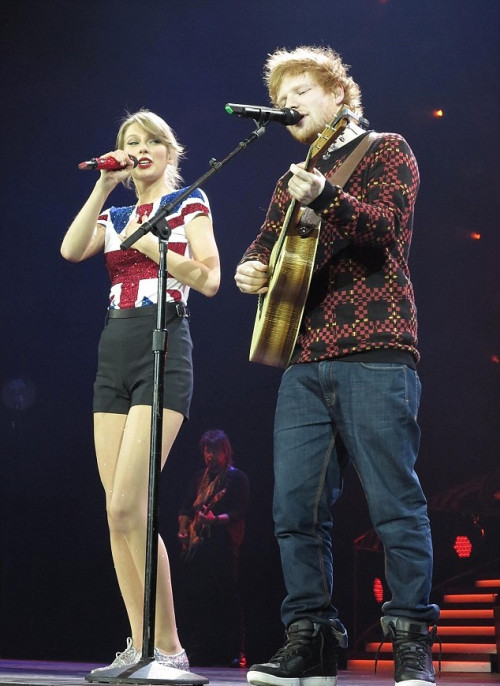 The pop idol was joined on stage by British star and friend Ed Sheeran for a performance of Lego House.
"First night in London and @edsheeran came out to surprise the crowd with 'Lego House'. Earth-shattering screams ensued. What a lad. #redtour," she tweeted.
And she managed to keep her cool when a fan stormed the stage during a performance of We Are Never Ever Getting Back Together, and began chatting with the singer before being lead off stage by security.
Rocking out the 02 playing guitar and banjo, Swift had the crowd on side at the off, as she strutted the stage in a Union Jack T shirt.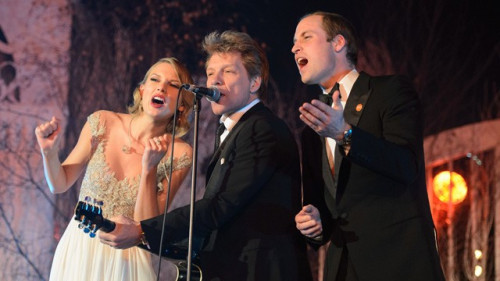 The singer most recently had a brush with British Royalty when she performed at the Winter Whites Charity Ball at Kensington Palace and was joined on stage by Prince William for an impromptu bout of karaoke.
The Duke of Cambridge joined Swift and Jon Bon Jovi, as they belted out the rock anthem Livin' On A Prayer.
"I could hear his voice and it is pretty good," she revealed. "(He has) a nice tone. I'd definitely say he's got star quality."
Swift clearly had better things to do, as former boyfriend Harry Styles was celebrating his 20th birthday in LA, with his current rumoured girlfriend Kendall Jenner.