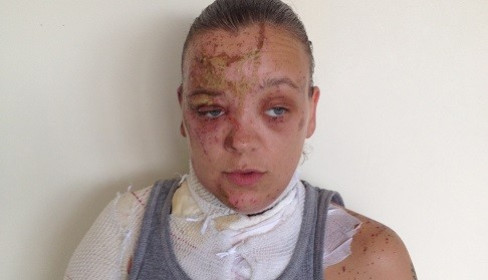 A teenager has been jailed for throwing acid in a woman's face in an unprovoked attack.
The teenager, who can now be named as 16-year-old Liam Sibbons, was sentenced to eight years and three months in jail after he admitted throwing acid in the face of Tara Quigley on the doorstep of her home in Romford, Essex, in April.
Quigley, 28, who did not know Sibbons, suffered 10% burns across her face, neck and arm and will need regular treatment over the next four years to fully recover from her injuries.
Sibbons pleaded guilty at Snaresbrook Crown Court to throwing corrosive fluid on a person with intent to do grievous bodily harm. He will serve six years in jail, with the remaining time served concurrently with a supervision order.
Quigley was at home with her sister and her children when she heard a knock on the door on the night of the attack.
When she opened the door, the defendant asked for "Michelle" but walked away when he was told no one of that name lived at the address.
He returned and knocked again, this time holding a bottle full of what is believed to have ben chromic acid, a highly corrosive substance. He squirted the substance in Quigley's face when she opened the door.
The motive for the attack is still not known.
In a victim impact statement read out at court, Quigley said that the incident had left her feeling as if her life had been had been "blown apart".
"I have been left both physically and emotionally scarred and am in constant pain and discomfort owing to burns on my face, chest and arms.
"I have lost confidence in my physical appearance and feel that people will stare at me when they see the scars.
"I truly hope that the man responsible knows just what he has done and the grief and anguish he has caused to me and my entire family."
Sibbons has four previous convictions and was on bail at the time of the attack.
DC Paul Swift said: "This was a callous and unprovoked attacked.
"Being attacked on the doorstep of your own home is a terrifying experience, but never being able to understand the motive must be very difficult to live with. Throughout the investigation and court case Ms Quigley has acted with bravery in reliving this experience."
Howard Cohen, defending, said his client - a known drug user - had no recollection of how he came to be at Quigley's house that evening.
Judge David Radford said that a large amount of money was discovered in Sibbons' room after his arrest.
"Another view could be that he was paid to undertake this," he added.