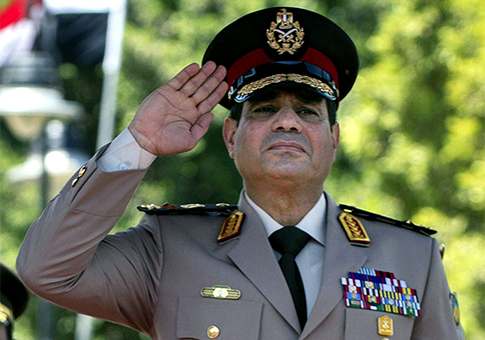 Egyptians have started a two-day referendum on a new constitution.
The referendum aims to replace the Islamist constitution introduced by the Muslim Brotherhood under former President Mohammed Morsi in 2012.
The Muslim Brotherhood, now designated a terrorist group by the interim military regime, is boycotting the vote amid fears of violence.
A bomb exploded outside a courthouse in north-western Cairo shortly before polling stations were to be opened.
Middle East Correspondent Sheera Frenkel reported on Twitter of tear gas and rubber bullets being fired in Helwan city, on the bank of the Nile while police are arresting some Muslim Brotherhood protesters.
No casualties have been reported.
200,000 police officers, 150 central security units and 200 combat groups are being deployed around polling stations on both days, according to the interior ministry.
"There is a high turnout so far. People seem to be genuine in their desire to vote yes," blogger and commentator on Middle East issues Nervana Mahmoud told IBTimesUK.
Interim Prime Minister Hazem Beblawi has called the referendum the "most critical moment" for Egypt.
The new constitution was drafted by a 50-member committee that included only two representatives of Islamist parties.
The referendum will mark the third time Egyptians have voted on constitutional arrangements since the historic uprising against Mubarak in 2011.
The new constitution was drafted by a 50-member committee that included only two representatives of Islamist parties.
Under the new constitution the president can be impeached by parliament; freedom of belief and gender parity are guaranteed and parties cannot be formed based on "religion, race, gender or geography". The army is in charge to name the defence minister for the next two presidential terms.
According to critics the new constitution favours the army at the expense of the people.
A "yes" vote could pave the way for new presidential and parliamentary elections and it could mean the definitive ousting of Morsi, who still claims to be the legitimate leader of Egypt.
General Abdel Fattah al-Sisi, the army chief who backed Mr Morsi's removal following mass protests, is likely to run for the presidency.
"If the predictions are right and General Sisi becomes president, he will set a new chapter in Egyptian history: a new military rule that Egypt has never experienced before," Mahmoud wrote on her blog.
Morsi was overthrown in July 2013 and replaced by a temporary military regime.
Morsi and many other top Muslim Brotherhood leaders have been arrested and are on trial, accused of inciting the death of protesters who demanded new elections in December 2012.
The former president also faces other charges including colluding with foreign militants against Egypt and involvement in a terrorist plot related to his escape from prison in 2011. He is due to appear in court again to face these separate charges at the end of January.
Morsi's ousting has led to some of the worst violence in Egypt: more than 1,000 people have died in violence since his overthrow.