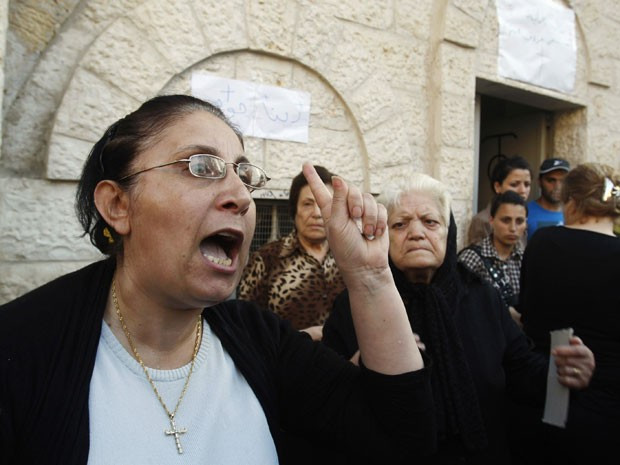 Christians have staged protests in Gaza over reports that Islamists proselytisers had kidnapped five of their number and forced them to convert to Islam. The converted include a woman and her three children as well as a man.
Gaza is home to a Muslim majority. The tiny Christian population numbers about 2,500 people.
After the Islamist group Hamas seized control of the Gaza Strip in 2007, fears about the Christian minority were raised but the relationship between the two groups has been relatively calm.
Christians blamed the Hamas-affiliated Palestine Scholars Association and its chairman Salem Salama, a senior member of Hamas, for the alleged kidnapping and conversion.
The Greek Orthodox archbishop in Gaza , Alexios, backed claims that Christians had been kidnapped and forced to embrace Islam.
"Let them go back to their families and we will see if they adopt Islam freely or not. If they are really Muslims, we do not have any problem letting them stay with their families," the archbishop told the website Al-monitor.
He demanded the release of the hostages and urged Hamas prime minister Ismail Haniyeh to act.
Hamas rejected the claims and said the converts had voluntarily chosen to change faith.
Voluntary Conversion?
Confusion arose after an Arabic-language video on YouTube showed the male convert Ramez al-Amash, 25, insisting he had freely converted to Islam.
"I am not kidnapped and I am fine. My message to my family is that I will go back to live with you," al-Amash said.
He has since returned to his home but refused to speak to the media.
Another online video showed a veiled Heba Abu Daoud with her three daughters aged 12, nine and six, in which she said she voluntarily converted on 14 July.
"We are living with a [Muslim] family. They bring us all we need, they teach us how to pray and everything," said Daoud.
"I extend my greetings to my family, my father, my mother, my sisters, my brothers, and all my relatives, and I hope no one feels upset with me. It was my decision which I made months ago." Though she left her husband, who still is a Christian, to convert to Islam, she made no direct reference to him.
The videos, which have not been authenticated, carry the logo of a Hamas TV station.
Daoud's aunt, Fatin Ayyad, said her niece had been pressurised to make the video.
"We are increasingly worried about our sons and daughters. If those people joined Islam of their own will it would not have been a problem. But they were under pressure," she said.
Alexios said: "It would not benefit them to harm the Christian community here."
A spokesperson for Hamas police, Ayman al-Batniji, denied that Amash and Daoud had been kidnapped.
"The man declared his belief in Islam willingly and the police tried to protect him after he called for our help when he had a problem with his relatives," he said.