Tesla has opened a new factory in the Netherlands that will produce up to 450 cars per week and has its own indoor test track. The facility takes partly assembled cars shipped from California and installs their battery packs, before putting them through quality control.
Located in Tilburg, less than two hours south of Amsterdam, the factory streamlines the Model S production process for European customers, reducing the waiting time of orders placed in the UK and on the continent. Model S vehicles are partly built in Tesla's US factory in California, then shipped to Tilburg.
Once there, the cars have their battery pack installed into the floor, powertrain and rear axle attached, and European-specific firmware uploaded to their onboard computer. The all-electric cars are then put through what Tesla calls "robust quality control testing".
This includes use of the indoor test track. A first for any car factory in Europe, the indoor track is 750m long and includes 6,000 dots simulating bumps in the road –something more common on European and British streets than on America's highways. The entire facility covers just under 78,000sq m, which is close to 20 acres.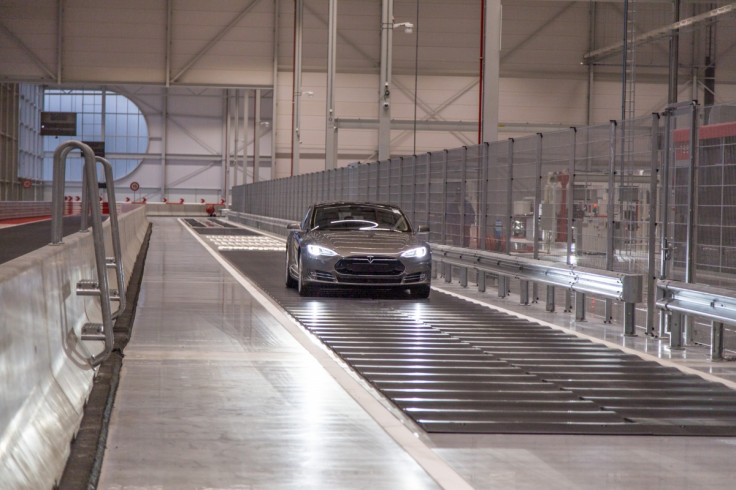 Tesla says that, once up to speed, the factory will spew out 90 completed Model S cars every day, or about 450 per week, doubling the current European capacity. The company's European presence continues to grow, with 69 stores and service centres spread across 12 countries. Europe also has more 1,000 Supercharger points, which top up the Model S's battery by 80% in around 45 minutes.
With a range of between 250 and 300 miles, the Model S can drive from Norway to Slovenia and the UK to Spain using the Supercharger network. There are now more than 25 charging stations in the UK.
In October the Model S, Tesla's first SUV, will start being delivered to customers; with it, the company looks to enter the high-performance sector of the SUV market. In 2016, Tesla will reveal the Model 3, an electric car set to cost less than £25,000 and rival mass-market cars such as the BMW 3-Series.