Tesla will unveil a new all-electric car to compete with the BMW 3-Series in March 2016, company boss Elon Musk has said.
The car, to be called the Model 3, will be a smaller version of the company's successful Model S and Tesla is rumoured to be targeting a starting price of around $35,000 (£23,000), placing it in the firing line of entry-level saloon cars from BMW, Audi, Volkswagen and Ford.
During a call with investors, Musk said: "We are hoping to show the Model 3 in March of next year," although admitted that this date is tentative and could change depending on how development of the car progresses. The chief executive added added that the car, which will have a range of 200 miles on one charge, will enter production in mid- to late-2017, adding: "Late 2017 is probably more realistic."
After widespread success with the Model S - and the Model X, a taller SUV which will go on sale towards the end of this summer - the Model 3 will be Tesla's most important car to date. Where the Model S is a luxury saloon priced between £50,000 and £100,000, the Model 3 will bring the concept of a practical and refined all-electric car to the masses and at a price which is equal to petrol cars of a similar size and style.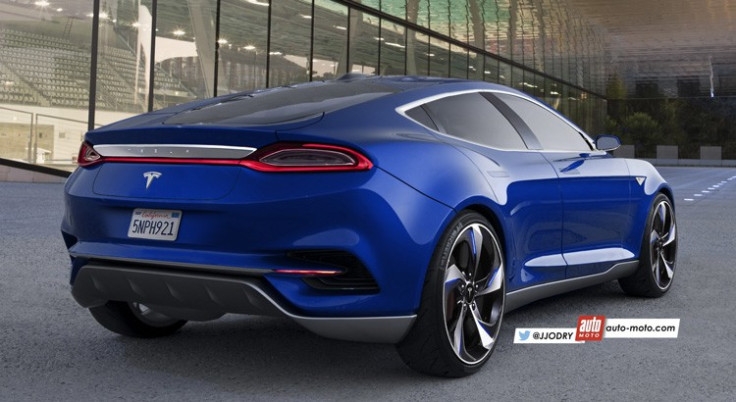 It will, assuming it sells in the high volumes expected of a £23,000 car, be the make-or-break point for Tesla's network of free Superchargers, which is gradually expanding across the US, UK, Europe and further afield to provide a way of quickly recharging for no cost and with the convenience of petrol stations. The company will need to install thousands more between now and late-2017 before anxiety - the fear of running out of electricity miles from a charger - is completely eradicated.
'Ford is trying to kill sex'
The Model 3 is actually Tesla's fourth car after the Roadster, Model S and upcoming Model X, and was originally called the Model E, but Ford sued Musk's company, saying it wanted to use the name. As a compromise, the Model 3's name will be stylised as Model III.
Musk told Auto Express earlier this year: "We had the model S for sedan and X for crossover SUV, then a friend asked what we were going to call the third car. So I said we had the model S and X, we might as well have the E...and then Ford sued us saying it wanted to use the Model E - I thought this is crazy, Ford's trying to kill sex."
The Model 3 is expected to feature an all-new chassis, rather than borrow the platform shared by the similarly-sized Model S and Model X, and the new vehicle will be developed in part by Tesla's British engineering chief Chris Porritt, who used to work for Aston Martin.