Police in Richardson, Texas are searching for a three-year-old girl who went missing on Saturday (7 October) after her father left her outside the house in the night as a punishment for not drinking milk.
Police reportedly charged the father, Wesley Mathews, 37, with abandoning or endangering a child. He was arrested on Saturday and later released on bail, WFAA TV reported.
An Amber alert raised for the missing girl, Sherin, was cancelled on Monday afternoon due to lack of fresh clues, but the search was continues, police said. The girl was last seen by her father, at about 3am local time on Saturday (9am BST) when he asked her to stand next to a tree about 100 feet away from their house.
Matthews told police that he left his daughter outside the house to punish her as she was refusing to drink milk. When he returned about 15 minutes later to take her back into the house, she was not there, NBC5 reported citing arrest affidavit filed against the father.
Wesley also told police that coyotes had been spotted in the alley where he had left his daughter. Their house in the 900 block of Sunningdale backs up to railroad tracks, according to police report.
Sergeant Kevin Perlich reportedly told the news channel that Matthews called police about five hours after the child was last seen. He added that the delay "is certainly concerning to us".
"That does not seem like a normal response that one would do if you have a missing child," Perlich noted and added that investigators have seized three vehicles, cellphones and laptops from the family as part of their investigation.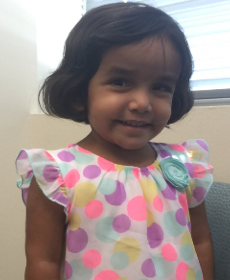 Police are now searching the girl in the adjoining neighbourhoods and are also contacting sex offenders in the area. Businesses that could potentially have useful surveillance video to trace the girl's whereabouts are also being taken into consideration in the search operation, police reportedly said.
Richardson police department has urged people with information to contact them on 972-744-4800.
A post on the department's Facebook page read: "She [Sherin] suffers from developmental issues and has limited verbal communication skills. She was last seen wearing a pink top, black pajama bottoms and pink flip flops."