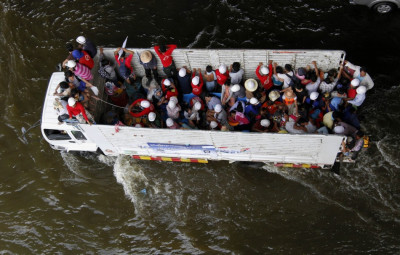 The worst floods to hit Thailand in 50 years have left sections of the capital, especially those in the north and areas on the banks of the Chao Phraya River underwater. Constant efforts by authorities to keep floodwaters out of inner Bangkok went in vain when a huge tide struck the city, slowing the discharge of the Phraya into the sea.
The rainfall began at the start of the monsoon season in July and three months of torrential rain has resulted in this disastrous flooding. As of now, damages stand at an estimated $30 billion.
The Prime Minister of Thailand, Yingluck Shinawatra, warned citizens that unless the floods could be diverted into the sea, the city could face even more damage. Approximately 90 percent of the locks in the capital, which sits on the Gulf of Thailand, have been opened, to allow water to drain out of the city. However, a report in the Guardian suggested that additional storms could still cause massive floods.
The government has confirmed that the death toll stands at 381.
On Saturday, during high tide in the Gulf of Thailand, the water level reached 2.57 meters; it is expected to touch 2.65 on Sunday.
"As for inner Bangkok, there is a possibility in the worse-case-scenario that there will be flooding of between 10 centimeters to 1.5 meters," said Justice Minister Pracha Promnok, who heads the Flood Relief Operations Centre (FROC). In an earlier statement, Prime Minister Shinawatra suggested that the floods could last for weeks, saying that authorities had sped-up flow of runoff through canals in the east and west of the capital city.
"If everyone works hard ... then the floodwater in Bangkok will start to recede in the first week of November," said Shinawatra, in a weekly radio and television address to the nation. She later told reporters that she expected the situation to "improve in one or two days".
"Thais must closely monitor the situation during high tide. Please be a bit patient and after that I believe the water level will start to recede because the water flow is easing and part of it is flowing into canals," she added.