The Deauville G8 summit profile: What do the eight countries want from each other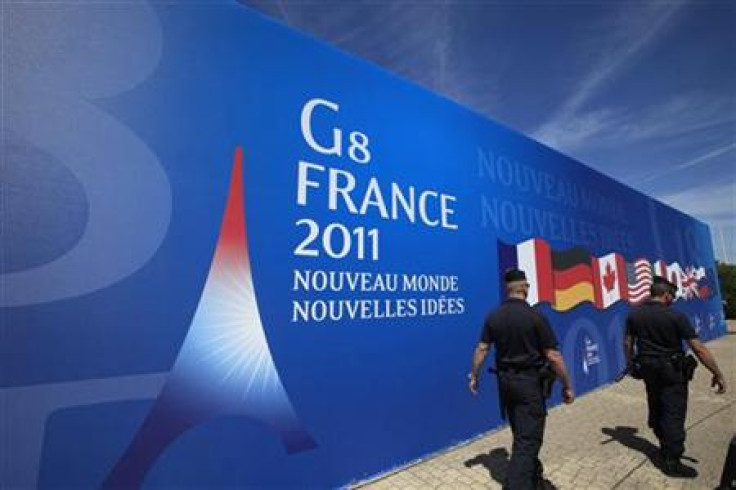 France, which currently holds the rotating presidency for the Group of Eight and the G20 is hosting the annual G8 summit in Deauville on May 26 and 27. The meeting is due to focus on issues including the global economy, political and security issues such as drug trafficking and terrorism, exiting from Afghanistan, Iran's nuclear program, the Middle East and North Africa and Internet governance. Following the March 11 Japanese earthquake and tsunami that damaged the Fukushima nuclear plant, nuclear energy safety is also tipped to be among the G8 agenda priorities.
Following the recent Arab spring, which has seen President Mubarak of Egypt and President Ben Ali of Tunisia forced out of power, the summit will hold two special sessions on the situation in the Middle East and North Africa. These sessions will be attended by G8 leaders, the new leaders of Egypt and Tunisia, UN Secretary-General Ban Ki-moon, and the heads of the Arab League, the International Monetary Fund (IMF), and the World Bank.
Other G8 sessions will be devoted to African economic and social development. The summit will also present an opportunity to discuss candidates for the replacement of ex-IMF chief Dominique Strauss-Kahn who resigned after being arrested on suspicion of sexual assault.
In order to understand what each G8 countries expect to gain from the summit, let us have a look of the key concerns members have.

The US
In his latest Middle East speech on May 19, Obama declared his intention to support pro-democratic regimes in the region and pledged to forgive $1 billion in Egyptian debt and supply another $1 billion in loan guarantees for Egypt and Tunisia. He also supports and will push for the creation of new investments across the region, including billions in aid from institutions like the World Bank.
He is expected to lead the talks on the subject as he is set to outline a plan for reforming the Middle East at the summit. Obama will also seize the opportunity to meet with Russian President Dmitry Medvedev to discuss a planned U.S. missile shield in Poland and Czech Republic. Russia is against the project as it fears the missile heads could be used against itself. In order to qualm Russian fears President Obama is expected to come up with political guarantees and assure greater cooperation, such as the implementation of a "a jointly manned early warning centre."
The missile shield project has been an element of discord between the two countries for a few years, but also divides America, with Mr Obama already threatening to veto any bill that would attempt to limit the administration's implementation of the strategic arms agreement with Russia. Obama also is expected to hold bilateral talks with Japanese Prime Minister Naoto Kan to talk about nuclear safety and with German Chancellor Angela Merkel about the Eurozone crisis.
France
In the wake of the May 14 arrest of former IMF chief Dominique Strauss-Kahn, who was tipped as the main political rival of President Nicolas Sarkozy for the 2012 French presidential elections, Mr Sarkozy sees the summit as a way to up his image as a European leader and will seize the opportunity to try to earn political points.
While the Economist noted in February that Sarkozy had hoped to use the G8 and G20 summit "as a perch to reassert French influence in the world", the unexpected Arab revolutions have caught France unprepared as it unmasked the tight relationship that the French regime had with Ben Ali, highly weakening Mr Sarkozy's political image in France but also in North Africa.
Instead, Mr Sarkozy is now expected to focus on his country's military involvement in Libya, as coalition forces want to force Muammar Gaddafi out of power. Following Mr Obama's pledge he is also due to announce France's support for the Arab Spring economies via the European Bank of Reconstruction and Development. With regards to nuclear power, Paris is expected to take a defensive approach as it constitutes a major French industry domestically and abroad.
Meanwhile, international governance of the Internet, intellectual property issues, taxing multinational companies are also on the French agenda.
Russia
President Medvedev will meet with President Obama at the summit to discuss a dispute over a planned U.S. missile shield for Europe, which Russia warns could start a new arms race. Medvedev was quoted as saying to Reuters, "If we do not agree, what we will get is Europe in the early 1980s".
Moscow will see the summit as an opportunity to receive binding guarantees from the United States and NATO that the missile defense will not be used against Russia and will call for greater cooperation on missile defense. With regards to the Middle East and North Africa Russia is expecting to be adissenting voice within the G8 as it has publicly reiterated it does not support more aggressive actions from the coalition or NATO in the region.
Russia abstained from the UN Security Council vote backing a no-fly zone for Libya and has opposed any intervention against Syria which it sees as an ally. Some reports suggest G8 leaders will try to persuade Russia not to veto a UN resolution on Syria however Medvedev has already argued that it finds NATO has overstepped the operation's mandate and therefore he does not want to support another similar operation.
Some say that Moscow might instead come up with a ceasefire or peacekeeping plan as Russia is trying to assert its position as a mediator. The country has indeed recently hosted envoys from the Libyan government and rebels. A major exporter of nuclear technology, Russia also is expected to lay out its plan for a binding international nuclear safety regime.
Germany
In March, the country, supported by Russia blocked G8 discussion as it did not approve the Libyan no-fly zone and later abstained from the UN vote on resolution 1973 approving military action. Germany insists economic reforms should accompany political reform in Arab Spring countries as it would like those countries to have more access to European markets.
Germany's position on Libya differs from other EU countries like France, the United Kingdom or Italy which are heavily involved in the operation. Charles Kupchan from the Council on Foreign relations says "The core of the problem is that the German electorate is very uncomfortable with the bailouts for Greece, Portugal, and Ireland, which has caused a broader discontent about European integration as a whole." Following the Strauss-Kahn arrest, Chancellor Merkel has, in the last few weeks strongly appealed for another European IMF head the international financial institution, citing her concerns over the Eurozone

Japan
Prime Minister Kan is expected to use the summit to try and reassure other members that his government is now in control and efficiently dealing with the consequences of the nuclear problem that affected his country. His moves come after Japan has been widely criticised for its handling of the crisis that led to new safety evaluations at nuclear facilities around the world.
Despite Mr Kan's reassurances and over two months of efforts, the situation at the plant is still said to be precarious. Japan had previously hoped to further develop its nuclear programme in the next two decades, but the crisis has upended those plans. Instead Tokyo has said it will refocus long-term plans toward more renewable energy.
At the summit, Kan is expected to focus on its new energy policy, which includes plans for the construction of large-scale offshore wind farms, the full-scale introduction of next-generation biomass fuels, and significantly reducing the costs of solar panels. Kan also may meet with Merkel and Obama to discuss a new bilateral trade agreement.
Canada
Prime Minister Stephen Harper is expected warn against excessive government borrowing, encourage leaders to keep G20 promises to halve their deficits by 2013, and start working toward balanced budgets. "Canada has plenty of skin in the game," the country's Globe and Mail notes. "It's among several Group of Eight countries now at war in Libya; it has experienced first-hand the kind of cyber-attacks this week's Internet summit will try to tackle; and at a seminar on the social impacts of globalisation, Canada will get the chance to tout its own recessionary recovery plan."
Harper also is expected to discuss securing funds for the Muskoka Initiative, a $7.2 billion five-year maternal, new-born, and child health plan that was launched at the 2010 G8 meeting and is implemented in developing countries. With regards to the Middle East, Toronto says it is "working in close concert with the international community" to respond to Arab uprisings and Harper's government is expected to follow suit on the US and EU actions taken against Syria by announcing new sanctions.
Britain
British Prime Minister David Cameron has spent the last few days with President Obama in London where both leaders have talked about issues including withdrawal from Afghanistan, Iran, Libya and the Arab spring. Following a joint press conference on May 24, Mr Cameron has confirmed reports that the United Kingdom will back the US in its bid to support new regimes in the region and assured that Britain remains committed to turning up the pressure on both Gaddafi and Syrian President Al-Assad.
The UK will use the Deauville summit to focus on support for Arab democracies and will, with the US, lead talks on developing financial assistance plans to the region. In the recent weeks British defense officials have insisted on the need to push for an escalationin the Libyan conflict to oust Gaddafi.
Italy
Italy's mounting economic problems may not play prominently in this year's G8 meeting as leaders devote considerable attention to the Arab Spring. The country's economic situation is for now quite unclear as divergent reports have recently emerged. While the credit ratings agency Standard & Poor's recently downgraded the country's outlook from stable to negative, a Financial Times editorial notes that the country deserves credit "for the steady course it has charted through the financial sector and sovereign debt crises of the past three years."
It remains however unclear how much Prime Minister Silvio Berlusconi can bring to the G8 table as he is currently engulfed in corruption and sex scandals. His decision to join the coalition against Qaddafi was also heavily criticised as prior to February Berlusconi did not try to hide his friendship with col Gaddafi.
© Copyright IBTimes 2023. All rights reserved.