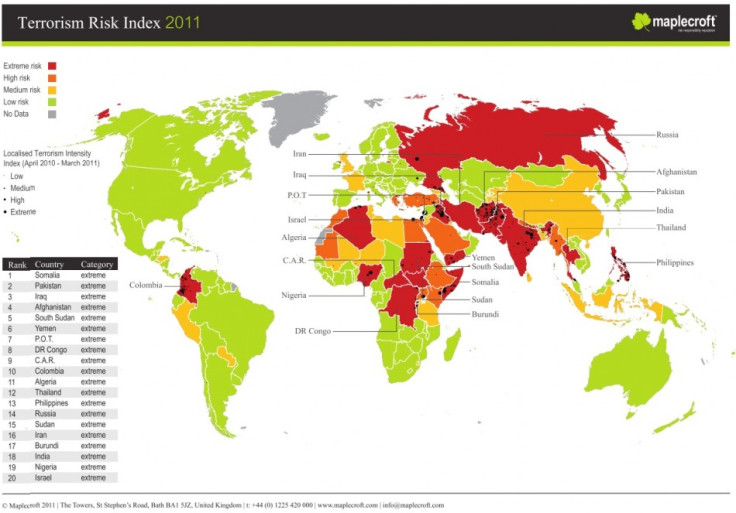 The UK is at the greatest risk of terrorism of any Western economy, according to research.
Maplecroft's Terrorism Risk Index, which ranks 137 countries, attempts to calculate the frequency and lethality of terrorist incidents over the 12 month period prior to April 1 2011, including a historical component that assesses the number of attacks over the past five years and a geographical component that assesses terrorist hotspots.
The UK is ranked as 'medium risk' and, at number 38, is the highest ranked major Western economy. No Western economy is classified as 'high' or 'extreme risk'.
This is due to the deteriorating security conditions in Northern Ireland, said Maplecroft, where there was a general increase in the number of terrorist attacks.
A Maplecroft spokesperson said: "Whilst most of the terrorist attacks that take place within the UK occur within Northern Ireland, there is still the risk of dissident Republicans launching attacks on the UK mainland. Although the last major Irish Republican attack on the UK mainland was fifteen years ago, there are indications that the threat of further attacks, from smaller, splinter Irish republican groups, has heightened in recent months."
France is ranked at 45 (medium risk), Spain is ranked at 53 (low risk), USA is ranked at 61 (low risk) and Germany is ranked at 62 (low risk). Greece is ranked higher than the UK but is not considered to be a major Western economy by Maplecroft.
The UK was ranked at 47 last year but this was using a different methodology, said Maplecroft.
Maplecroft's research also reveals that the number of terrorist attacks rose by approximately 15 percent globally, with 11,954 incidents between April 2010 and March 2011, compared to 10394 from April 2009 to March 31st 2010. However, there was a decrease in fatalities falling to 13,492 from 14,478.
South Sudan, ranked at 5, is rated as 'extreme risk' primarily due to the intensity of terrorist attacks, with an average of 6.59 fatalities per terrorist incident, almost three times that of Somalia at 2.23, which is the highest ranked country in the list.
Anthony Skinner, Associate Director at Maplecroft, said: "Although some countries are rated as 'extreme risk', terrorism attacks can be limited to a specific region or a relatively small number of areas. Thailand is a case in point, where the majority of attacks take place in the southern states," continued Skinner. "Subnational mapping of this kind enables organisations to pinpoint these hotspots and monitor risks to staff, as well as assets, such as factories, refineries and pipelines."
Top 20 according to Maplecroft:
Somalia (1)
Pakistan (2)
Iraq (3)
Afghanistan (4)
South Sudan (5)
Yemen (6)
Palestinian Occupied Territories (7)
DR Congo (8)
Central African Republic (9)
Colombia (10)
Algeria (11)
Thailand (12)
Philippines (13)
Russia (14)
Sudan (15)
Iran (16)
Burundi (17)
India (18)
Nigeria (19)
Israel (20)
Follow Joe Rennison on Twitter here.
E-mail your story ideas to j.rennison@ibtimes.co.uk