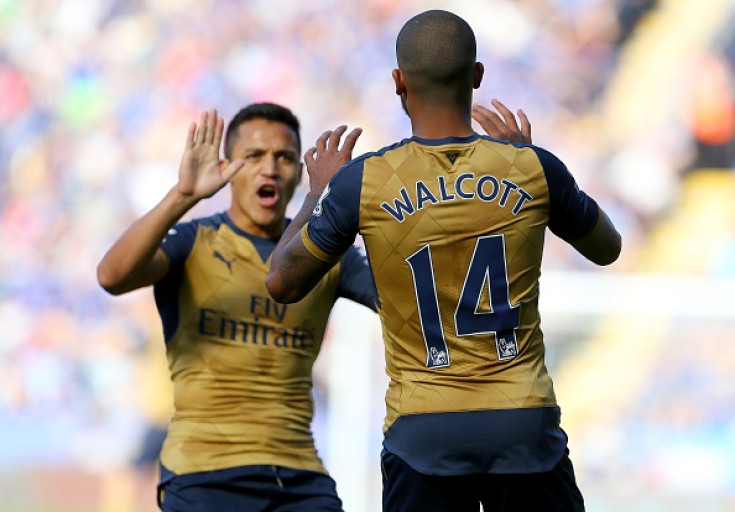 Arsenal striker Theo Walcott has credited Gunners trio Thierry Henry, Alexis Sanchez and Arsene Wenger for his meteoric rise this season. The former Southampton forward is in the form of his life this campaign, and has already scored four and provided a similar number of assists in 11 games in all competitions.
Walcott has been preferred as the lone striker by manager Wenger in most games this season, with Olivier Giroud relegated to the bench, despite starting the season as number one. The England international has started all games since the French forward's sending off against Dinamo Zagreb in the Champions League on 16 September, including the game against Manchester United on Sunday (4 October), which was his best performance thus far in a central role.
The 26-year-old forward indicated that the presence of Henry at the club has helped improve his game. The French World Cup winner is taking his Uefa coaching badges and is currently working with the Arsenal U18's, which has allowed Walcott to interact with club's all-time record goal-scorer about improving his game.
"Having Thierry at the club now, I have been chatting to him on a personal level behind the scenes to learn things from him. He's with the under-18s and, at times, I think some of them don't even know who he is! I've had quite a few words with him about some of the games I've played," Walcott is quoted as saying by the Mirror.
"He has just given me his analysis on myself and, if I've needed to ask him some questions about it, he's always there. That's what coaches are there for. I think, sometimes, you see this generation of players, they're actually scared to go up to coaches and ask something."
The Three Lions forward also revealed his conversations with the French manager, who has instructed the forward to show more aggression while playing on his own up front. And following the arrival Sanchez, the Englishman had an example of how to shape his game into being more aggressive on the pitch.
Explosive start
The Chilean international made an explosive start to his career in the Premier League, scoring 25 goals in all competitions in his debut season, and after a slow start this campaign, Sanchez has now opened his account with five goals in two Premier League games, which included a hat-trick against Leicester City and a brace in the 3-0 demolition of Manchester United.
"Going back to the question about when it clicked about going up front, that was one of the things Arsene wanted me to do – to be more aggressive on the pitch. And maybe he's sensed that I've had more aggression. I actually said, 'Do you want me to get stuck into people?' That was my reaction. He said, 'No, I'm not saying that'. He wanted me to be more aggressive, in terms of running at players, closing them down, tracking back, being there and in their faces," the Gunners forward explained.
"When I first saw Alexis Sanchez join the club, I thought, 'Wow, yeah, this is a big statement'. Then, actually seeing in the flesh what he does – you see a winner there. He wants to win and he wants to achieve things. And, with that work-rate, if he can do it, then why can't I do it? Maybe that was missing a few years ago. Now, I've really thought, 'I need to step up' and players like that help," Walcott added.