Theo Walcott believes Arsenal have to get better to break through defences that play a back three like Tottenham and Middlesbrough have done when they came to the Emirates. The Gunners have dropped four points thus far to such tactics and after the run of games this weekend are currently fourth in the league.
Tottenham started the better team with Kyle Walker missing a free header in the box while Harry Kane failed to guide a Christian Eriksen cross into the back of the net. However, the Gunners shrugged off their rustiness and came back into the game, with Iwobi missing a brilliant chance to put the Gunners a goal up.
However, they went off the mark with an own goal by Kevin Wimmer, who guided Mesut Ozil's brilliant delivery past Hugo Lloris. Walcott also had a chance to make his mark, hitting the post from a distance while Ozil failed to guide the ball into an open net after it rebounded from the bar. However, the 27-year-old conceded it was difficult for the Gunners with the shape Tottenham had taken as it had taken them completely by surprise.
On whether Spurs moving to a back three surprised them, Walcott told Arsenal's official website, "It did, completely. Middlesbrough did that against us. Lots of teams are starting to do that now, with Chelsea probably the best at doing it at the moment. It was difficult to break them down but it was one of those games where there weren't that many chances. I hit the post and maybe Olivier on another day would've had more luck, but it's probably a good result in the end.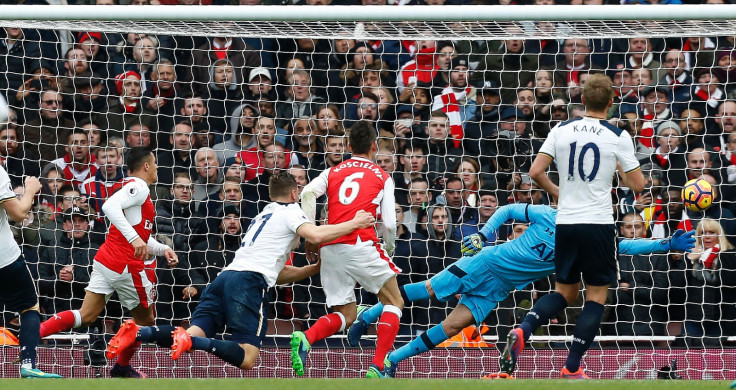 "The touch just got away from me and I just thought about concentrating on hitting the ball. I think that's the best I could've hit the ball and it caught everyone by surprise but, unfortunately it doesn't even count as a shot on target. It's one of those where you think back and it's all about working hard. The guys gave everything. We probably worked harder defensively than we did going forward and that maybe stopped us from creating more."