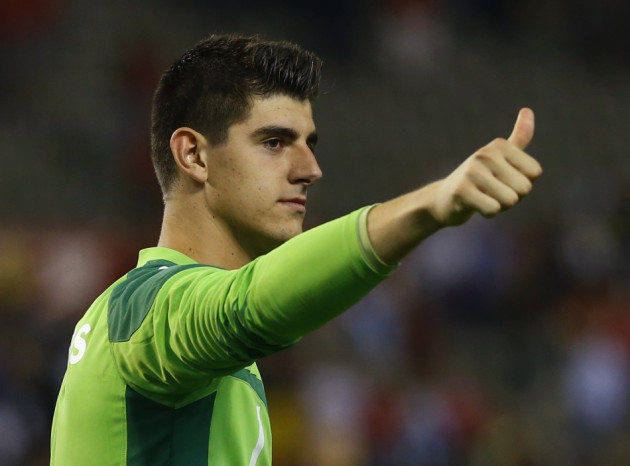 Barcelona president Sandro Rosell has gone public with the club's admiration for Chelsea goalkeeper Thibaut Courtois ahead of a much rumoured bid for the Belgian international.
Courtois has begun his third season on loan at Atletico Madrid and has built a reputation as one of the most outstanding goalkeepers in world football, setting a La Liga record in keeping 20 clean sheets last season.
Despite concerns over Petr Cech's long-term fitness, Courtois' impressive performances for Atletico have failed to dislodge the Czech Republic stopper as the Chelsea No.1, with the 31 year old approaching 300 league appearances for the club.
With Victor Valdes set to leave Barcelona next summer upon the expiry of his current contract Courtois is understood to be considering a move to the Nou Camp as he grows continually frustrated with his lack of opportunities at Stamford Bridge.
Since signing for Chelsea in 2011 Courtois has never made a professional appearance for the club having spent two seasons in Spain, despite being the Belgian No.1.
And with Barcelona making no secret of their desire to sign a new goalkeeper following Valdes' expected departure, Rosell has admitted his admiration for Courtois.
"He is a great goalkeeper, he is very good and I like him a lot," Rosell said.
Amid reports regarding Courtois' discontent with his situation at Chelsea, Rosell's comments will likely work to unsettle the 21 year old stopper as Cech continues to show little sign of leaving west London.
Cech's current deal at Chelsea runs until 2016 and should he remain Chelsea's No.1 then Courtois would be required to wait another three years for his chance between the sticks in the Premier League.
Head and knee injuries have taken their toll on Cech but as he closes in on 150 clean sheets for Chelsea the Sparta Pragua man is showing few signs of letting up.
And should his impressive form continue then Courtois is likely to be forced out of the club in the coming years, ending an inauspicious relationship with the three-time Premier League champions.