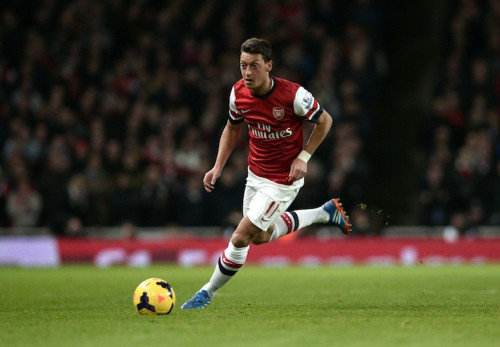 Theirry Henry believes that Mesut Ozil has been the much-needed key to Arsenal's trophy charge with the side now standing tall alongside big-spenders Manchester City and Chelsea.
Ozil's move to the Gunners in the summer caused a complete turnaround in the atmosphere at the Emirates with fans having targeted Arsene Wenger for his failure to spend big in the summer transfer window.
The deadline day deal smashed their transfer record though and with the side having spent the majority of the season at the top of the table they are now looking at the possibility of breaking an almost decade-long trophyless spell.
And Henry believes that Ozil has given the side the ability to become serious contenders in the Premier League again just a season after the club struggled to seal Champions League qualification.
"They have more experience now," he told Goal.com. "They all get one more year, and there's obviously the arrival of Mesut Ozil – that was very important for the club.
"With his calmness, his quality on the ball, his vision, he is a great player and can give an assist at any moment. He also has the quality and capacity to score goals at any moment, so it's always great to have a player like that around in the dressing room on a daily basis, and at the weekend at the game."
Henry said that the critics will drive Arsenal to push even harder for silverware this season with many having predicted them to be far away from any fight for the title in last summer.
"I can say right now that everybody is expecting Arsenal to collapse, just as they were expecting it earlier in the season," he explained. "But they didn't.
"They are still somehow keeping up the pace in the Premier League, and every time they have been in a situation where they have to answer back to Man City and Chelsea, they have done it.
"Hopefully, they can carry on doing that. As an Arsenal man and a fan of the club, I want them to carrying on doing that the whole way and make sure they can win the league.
"The future will tell us if they are good enough, but right now for me, they are."
While Arsenal are currently at the top of the table only two points separate the side from second-placed City and Chelsea in third.