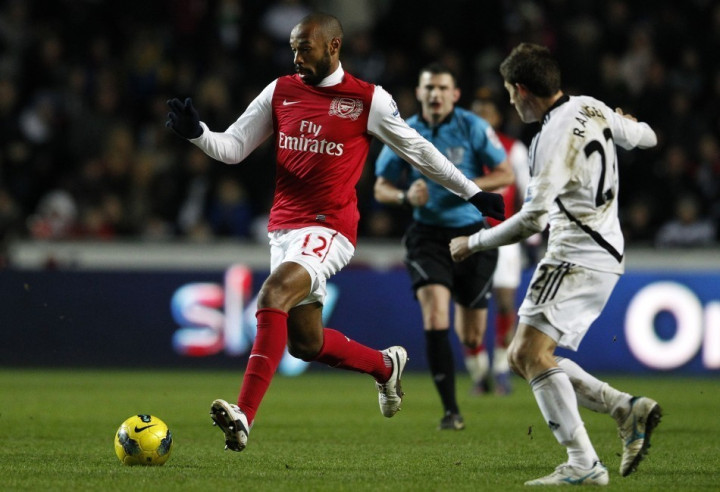 Arsenal legend Thierry Henry is being pursued by French clubs Paris Saint-Germain and Monaco for a move back to Ligue One, according to the Daily Mail.
The 37-year-old, whose contract with MLS club New York Red Bulls expires this January, may see himself playing in the Champions League yet again if the speculation turns out true.
Rumours are rife that the former Arsenal man is set to retire but any interest may see him back for a third spell with the Gunners, with whom he established himself as one of the greatest players in the game.
Arsenal are currently struggling in the league and Henry's return will not only give them an impetus but also help new signing Danny Welbeck who would look to take some valuable tips from his childhood hero.
The Frenchman returned to Arsenal for a stint in 2012 when he scored the winner against Leeds United to take Arsenal into the fourth round of the FA Cup.
Henry scored 226 goals for Arsenal and is their top scorer in all competitions, in his seven-year stint at the club. The club legend then went on to play for Barcelona where he won the La Liga and the Champions League, having failed to replicate the success with Arsenal in the summer of 2006.
The speculation linking him with a move to Europe was further fuelled by New York's global head of football, Gerrard Houllier, who believes that Henry has it him to play in Ligue One.
"If he has the level to play in Ligue 1? Yes, no problem," Houllier said.
"So far no decision has been made, either in one direction or the other. Thierry has not decided to end his career.
"We would love to keep it but it will also depend on him. Besides Thierry is in shape, it gives the impression of not growing old because he scores goal on goal.
"If there is another strategy that is to start with another squad, younger as the team gains a bit of experience, I think that Thierry could be part of this adventure.
"But it was confirmed that neither he nor the club had made ​​a decision."