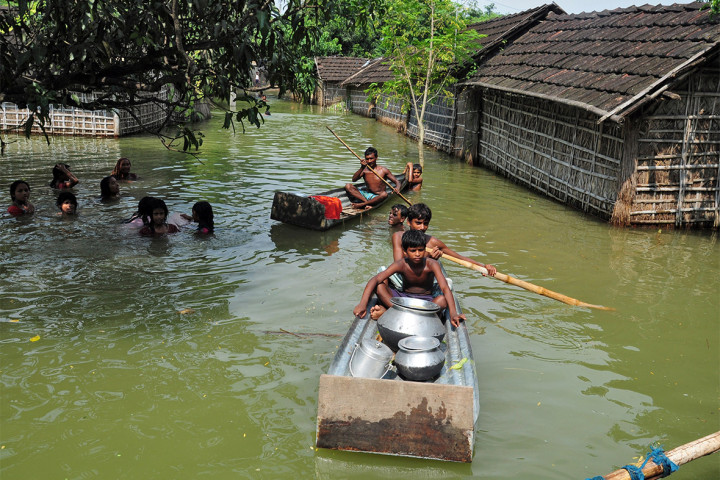 Thousands of people have been affected by severe floods in India's northern state of Bihar.
Rivers flowing through the districts of Darbhanga, West Champaran and Nalanda districts breached their embankments, flooding more than a dozen villages and leaving thousands of residents stranded.
Anirudh Kumar, special secretary at the Disaster Management Department (DMD), said around 45,000 people have been affected by floods in Darbhanga district alone.
According to local reports, hundreds of people fled their homes after the flooding reached a number of villages, including Supaul, Saharsa, Bagha and Gopalganj. No casualties have been reported.
"Water entered these villages after levels rose in all the major rivers following heavy rain in the state and the catchment areas in Nepal," a water resource department official said.
Rescue operations have been launched and local officials are assessing the situation. Kumar said four teams from the National Disaster Response Force have been sent from Kolkata to assist the emergency teams already in Bihar.
An official from the state DMD told the Indo-Asian News Service: "We have sounded a high alert as major rivers in north Bihar, especially the Kosi, Gandak, Kamla Balan and Bagmati, are in spate following heavy rains in their catchment areas in Nepal, and are posing a threat of floods.
"A clear picture of the situation will emerge only after the aerial survey is complete – only then will we be able to say anything."
Water Resources Department minister Vijay Kumar Chaudhury told the Press Trust of India that negligent engineers may be implicated in the causes of the flooding.
"The executive engineer of our department and his subordinates in Darbhanga district are being suspended because of showing laxity in the matter," he said.
"The breach happened despite our officials being there. We are conducting a probe in the breach in Gandak embankment and irresponsible officers will be suspended."
Bihar is one of India's most flood-prone states and three-quarters of the region's population residing in the north of the state live under the constant threat of flood devastation. India is currently in its monsoon season, with rainfall levels below average this week.