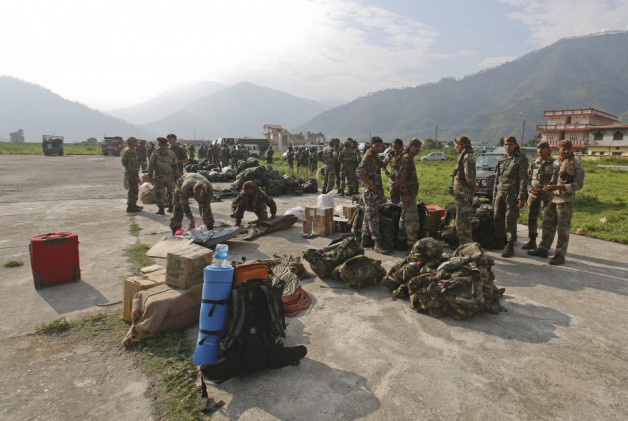 Rescue workers are struggling to reach survivors of floods in India's northern state of Uttarakhand as dense fog hampers rescue efforts.
The death toll was expected to exceed 1,000 following a "Himalayan tsunami" of flood waters, the state's chief minister Vijay Bahugana warned.
Monsoon rains came two weeks earlier than expected last Sunday, with flash floods and landslides flattening buildings and washing away scores of villages and hamlets.
Efforts to rescue tens of thousands of devout Hindu pilgrims have continued for a week across a mountainous area where roads and communications lines have been largely destroyed.
The army has been drafted in to help with efforts to rescue an estimated 22,000 people, and airdrop food and supplies to others, before further expected downpours on Sunday night.
Helicopter operations were suspended on Sunday afternoon due to the weather, authorities said.
Tens of thousands of religious pilgrims visit the region each year from across India. The state is home to some of the country's most sacred sites.
At least 664 people are confirmed dead. Survivors told of seeing family members washed away, and of river valleys littered with corpses.
Sushil Kumar Shinde, India's home minister, admitted that the rescue effort had been hit by a lack of co-ordination among the different agencies involved.
"This is an example of the kind of event that you are going to see in much greater frequency and intensity in the future," said Rajendra Pachauri, head of the Energy and Resources Institute in New Delhi.
The tragedy has highlighted the need for India to improve its disaster management efforts, analysts said.