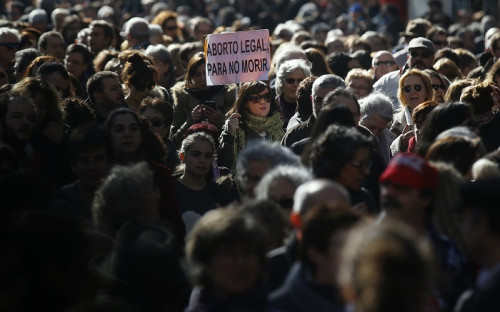 Tens of thousands of people took to the streets of Spain's capital Madrid on Saturday in protest at a proposed new law that would restrict access to abortion.
Protesters marched on Spain's parliament carrying banners that read: "Allow mothers to decide" and "Mothers and fathers in freedom".
The proposed law, which was announced by justice minister Alberto Ruiz-Gallardon in December, would restrict abortions to cases of rape or serious risk to the mother's health.
As part of the new measures, 16 and 17-year-olds will also have to obtain permission from their parents to have an abortion.
A separate demonstration was staged outside the Spanish embassy in Brussels earlier this week and attracted over 2,000 people. Additional solidarity protests are planned in Paris, London and Rome.
One protester told Euronews: "This law doesn't respect the minimum rights that other laws in Europe do. This law treats women like minors."
Another demonstrator added: "What we are asking the Spanish government today is to review the bill that it intends to make law to ensure that the right to abortion isn't restricted as it is in the proposal."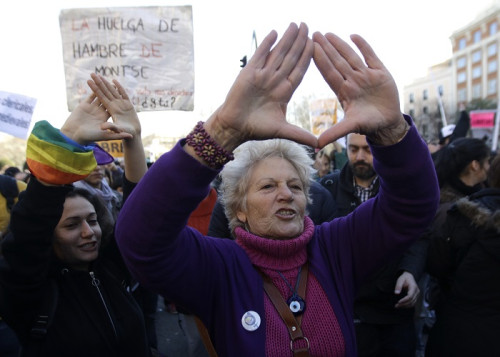 The bill, which must be approved by parliament before it becomes law, would reverse measures introduced by the previous socialist government in 2010, which made abortion before the 14th week widely available.
The proposals have been backed by Spain's Catholic Church, which enjoys support from the ruling Popular party on social and moral issues.
However, women's groups and reproductive rights activists have roundly condemned the bill, saying it will take Spain back to the dark days of General Franco's dictatorship.
Spanish Prime Minister Mariano Rajoy pledged to tighten abortion regulations during his party's 2011 election campaign, but has repeatedly postponed reform due to dissent within his party. Recent polls show that up to 80% of people in Spain oppose the proposed changes.
Last year, the head of Spain's Catholic Church Cardinal Antonio Maria Rouco Varela said the 2010 law that liberalised the country's abortion regulations had increased the number of terminations to "terrifying levels".