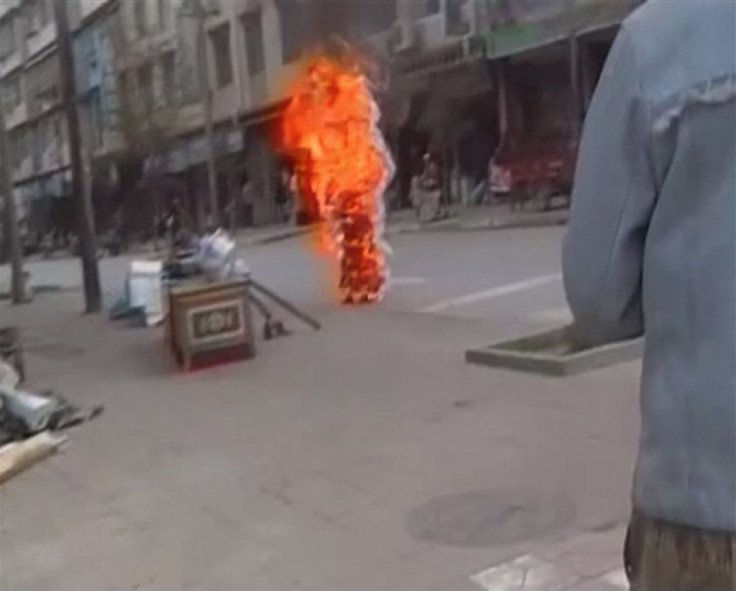 Two Tibetan nationals have added their names to the long list of victims of self-immolation as a form protest over Chinese occupation and control of Tibet.
The two men, identified as Tobgye Tseten from the Gansu province and Dargye, a resident of Aba County in China's Sichuan province, both set fire to themselves outside the Jokhang Temple, a famous Buddhist pilgrimage centre in Lhasa, on Sunday. Tragically, while Dargye survived and is reportedly in stable condition, Tseten did not, according to the Xinhua state news agency, which added the authorities managed to put out the fires within a couple of minutes.
"They were a continuation of the self-immolations in other Tibetan areas and these acts were all aimed at separating Tibet from China," Hao Peng, head of the Communist Party's Commission for Political and Legal Affairs in the Tibet Autonomous Region told Xinhua.
Tibet has long protested against Chinese claims of sovereignty, made since the 1950s, and have consistently sought territorial independence and the return of their exiled spiritual leader, the Dalai Lama. The Chinese authorities, in turn, blame the Dalai Lama for encouraging anti-government protests.
The Dalai Lama has often praised protesters for their courage but has said he does not favour self-immolation.
Over 30 people, mostly Buddhist monks, have set themselves ablaze since March last year, as a form of anti-China protest. There have been 17 deaths. Most of these self-immolation bids occurred in the Tibetan parts of Sichuan and Gansu provinces, next to what China calls the Tibet Autonomous Region, according to Reuters. There is only one recorded bid within Tibet.
In November last year, a Tibetan Buddhist nun, Palden Choetso, set herself on fire, on the streets of Daofu. The 35 year old succumbed to burn injuries. The recent incident in Lhasa is reportedly the first anti-China self-immolation bid to have occurred inside the Tibetan capital.
In addition to Tibetan regions and China's densely populated Tibetan areas, the neighboring country of India has also seen a self-immolation bid. The incident happened in the capital city of New Delhi in March, as a protest against the visit of Chinese President Hu Jintao to the city to attend the BRICS (Brazil, Russia, India, China and South Africa) Summit.