Tictail, a start-up which offers a platform to set up e-commerce websites, has just announced it raised €1.2 million in a round of funding led by Balderton Capital and Klaus Hommels.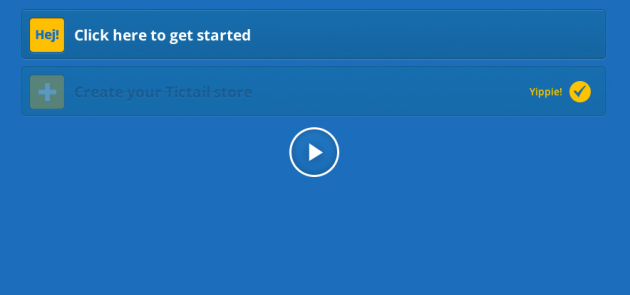 Balderton Capital, based in London, is one Europe's largest venture capital firms and previous investments include Lovefilm, Bebo and MySQL. Klaus Hommels is an investor based in Zurich. His portfolio includes Airbnb, Facebook, Skype and Spotify.
The round also includes investments from Tictail's board of advisors, notably made up of Gustav Söderström, chief product officer at Spotify, and Fredrik Nylander, COO of Tumblr.
The company was a finalist at the Dublin Web Summit's Spark of Genius start-up competition. Founded in May 2011 and launched in May of this year, Tictail is a platform for independent and boutique brands to set up e-commerce websites.
The platform prides itself in being easy and fast to set up, and to appeal to brands by being flexible. Tictail also offers social integration from the start of the process and gives brands to-do feeds which act as personal marketing assistants, helping brands drive sales.
The platform's first user was co-founder Carl Waldekranz's mother who sells china. Since then, more than 5,000 brands have used the platform, notably Swedish brand Cheap Monday who also used it to sell its 2013 collection before it even hit the runway.
"They use us not just because we're cheap - it's a major brand, cost is not the only criteria here - but because we are fast to set up and easy to use. And we offer a truly flexible platform," explains Waldekranz.
Hommels said Tictail is a true democratisation of e-commerce: "It's a friendly, simple platform that provides every individual with powerful tools, ultimately providing a positive feeling of building a business. Led by a stellar, passionate management team, it was a very quick decision to invest."
Finalist
Tictail was a finalist at the Dublin Web Summit start-up competition and was recently named Sweden's Best Entrepreneurs by Internet World.
Walderkranz started Tictail with Birk Nilson and Kaj Drobin in a kitchen, but because they did not have the capital necessary to go fulltime, all three co-founders had daytime jobs and would work on the site during their free time.
When they first started, the team had not set up a jobs page, instead inserting a message into the landing page source code. Siavash Ghorbani, who ended up joining the team as a co-founder, was looking for the font used by Tictail for another project when he encountered the source code message. "It felt like it was a sign - it's a modern start-up love story."
The team has now grown to eight full-time employees. Tictail is open to all retailers, though the primary markets are Scandinavia, Germany and the UK. With the funds raised, Tictail will be focusing on the UK market and work towards a European expansion.