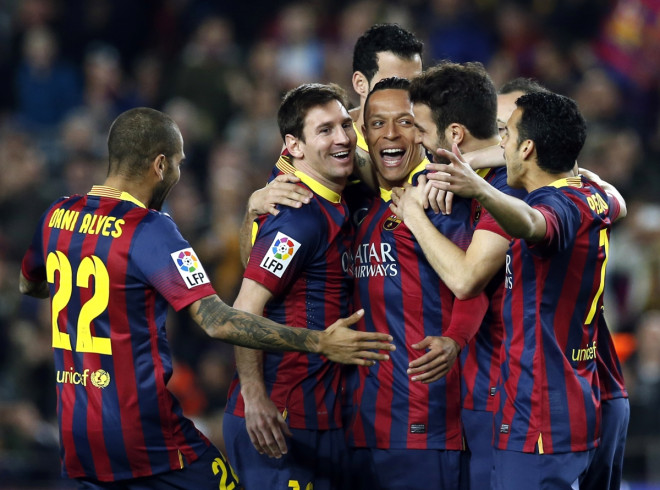 Barcelona have has their share of highlights during the first part of the season but unfortunately for Manchester City they appear to be returning to their best form in time for the first leg of the Champions League last 16.
Gerardo Martino have been experimenting with a more direct football since he took charge of the Catalans last summer but in the latest games he has realised that there is no better way to excel than return to the tiki-taka style.
After losing to Valencia in February, Martino decided to forget about a counter-attacking policy and returned to the Pep Guardiola's passing game of old. With that style, they beat Real Sociedad to secure a place in Copa del Rey final and secured a 6-0 victory over Rayo Vallecano, producing their best form of the campaign so far.
The golden era of Barcelona has probably past, but Martino's side still have one of the most fearsome attacks in the world. The talented Lionel Messi, reaching his peak after injury, is their main asset but not the only one, as Andres Iniesta has recently returned to his best while summer-signing Neymar marked his return from a long-term injury against Rayo with a superb goal.
To stop a formidable City attack, much stronger and quicker than them, Martino should bolster his midfield with four specialists in the role like he already did against Real Sociedad, lining up Sergio Busquets, Xavi Hernandez, Cesc Fabregas and Andres Iniesta with just two players up front.
If Neymar is fully fit, the Brazilian should play alongside Messi to take advantage of City's problems at the back but if the former Santos star is not ready to play, Pedro will assist Barca's pressing game particularly against Aleksandar Kolarov.
But the biggest issues for Barcelona is not in attack but defence and Busquets will be key to stopping the City counter-attack.
Dani Alves and Jordi Alba should abandoned their attacking instincts and appreciate the second leg will allow them more space to operate in to help Javier Mascherano and Gerard Pique in the back.
Furthermore, Barca must stay disciplined around the area and prevent as many corners as possible, given the physically imposing duo of Vincent Kompany and Yaya Toure.