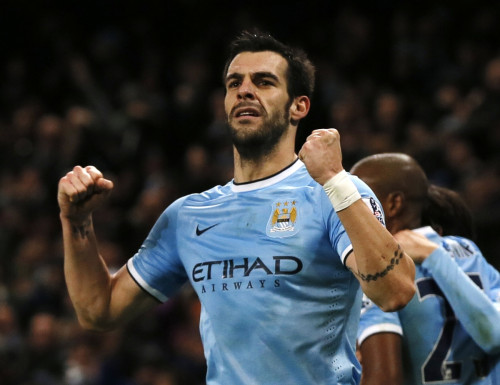 Tottenham Hotspur manager Tim Sherwood has compared Manchester City striker Alvaro Negredo to Alan Shearer, insisting he has already shown qualities of the former Newcastle United and England striker.
One of the standout performers since the birth of the modern-day Premier League, Shearer's performances for both club and country are remembered with fondness as he achieved legendary status throughout England.
And as Tottenham prepare to play Manchester City this week Sherwood has admitted that in his studies of Negredo, who came to City from Sevilla last summer, he feels like he is coming up against another player as unstoppable as Shearer.
"They both score," told Sky Sports. "I haven't studied Negredo as much as I knew Alan but if he can be anything like Alan in the Premier League, then he won't do too badly!
"They both score every type of goal, they hold the ball up well. He is probably the most similar to Shearer as there has been in recent years."
Shearer and Sherwood played alongside one another for Blackburn when the side lifted the Premier League title and the Spurs manager will be well aware of just how hard it is to stop a striker as rampant as the now-TV pundit.
Sherwood also pointed out that if Tottenham can stop Negredo in their tough match-up with City there are a host of attacking stars willing to stand up and pose a huge threat to a Spurs side hoping to keep the pressure on the top four.
"City can score at will," he explained. "We just have to make sure we can score against them.
"Negredo has been fantastic but he can't score on his own. He has the backing of the rest of the side. Navas, Silva, Aguero...they have no end of talent.
"We have to be honest and say City's biggest strength is when they attack so let's hope we can make them defend as much as possible."
Last time Tottenham faced Manuel Pellegrini's side they were on the losing end of a 6-0 scoreline. And while Sherwood says his side aren't concentrating on the past they will be looking to make things right against a club which humiliated them towards the end of the year.
He said: "I haven't heard my players talk to me about the 6-0. But I am sure it would be on their minds if they have professional pride. To get beat is one thing, but to get done by six is a real blow.
"Anybody who finishes above Manchester City wins the League. Do I remember such a free-scoring team? Yes - I played in one!
"It's not easy to get a team playing like that. The manager has a clear vision of how he wants to play, he doesn't veer too much, he doesn't worry about the opposition."