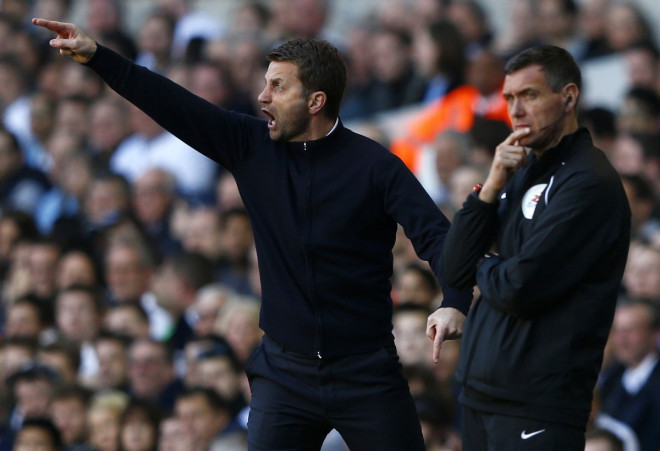 Tim Sherwood believes the nature of Tottenham Hotspur's spirited efforts in their Europa League defeat to Benfica prove that his players are fully behind him.
Spurs were eliminated by the Portuguese league leaders in Lisbon on Thursday evening following a 2-2 draw at the Estadio da Luz after a 3-1 first leg defeat at White Hart Lane last week.
After travelling with a heavily depleted side supplemented by a number of previously untested youngsters, Sherwood's side came close to causing an expected turnaround when two late goals from Nacer Chadli but Spurs 2-1 up on the night, just one goal off taking the tie to extra time.
Harry Kane saw a penalty appeal turned down as Spurs searched for an equaliser on aggregate but Benfica were eventually awarded a spot kick of their own after Lima was felled in the dying minutes of extra time.
Despite Sherwood's promises that he will still be head coach this summer, his position has fallen under real scrutiny in recent weeks. His tirade against his players following a dismal 4-0 defeat to Chelsea fuelled further speculation that a decision in the Tottenham board room has already been made, but Sherwood firmly believes his players are fighting for him.
"People speculate don't they," Sherwood said following the game. "I read a lot of things saying now you need those players on your side.
"I think it's evident they're on my side and the side of the club. They fight for the cause and my little rant, if you want to call it one, has done them no harm.
"They have showed real character and real guts and they need to do that until the end of the season, because we've got some tough games ahead and I'm confident they will do that."
A subplot to Thursday's game surrounded a confrontation between Sherwood and his Benfica counterpart Jorge Jesus, who clashed on the side-lines in north London a week ago. In a bid to avoid another confrontation the Spurs boss took a seat in the director's box.
"I just wanted to get a better view up there and maybe take some steam out of the situation," Sherwood added. "It was about what our boys could do against their boys on the pitch.
"Obviously there was a flare up between me and their manager last week and I didn't want that to take away from what we did on the pitch.
"The concentration was on the pitch and we played better than them. Congratulations to him, he's got the chance to wave his wingers at a few more managers in this competition."
Spurs have struggled in their domestic games immediately following their European fixtures this season, winning just four of the previous 11. They host Southampton on Sunday afternoon before travelling to Anfield the following week.