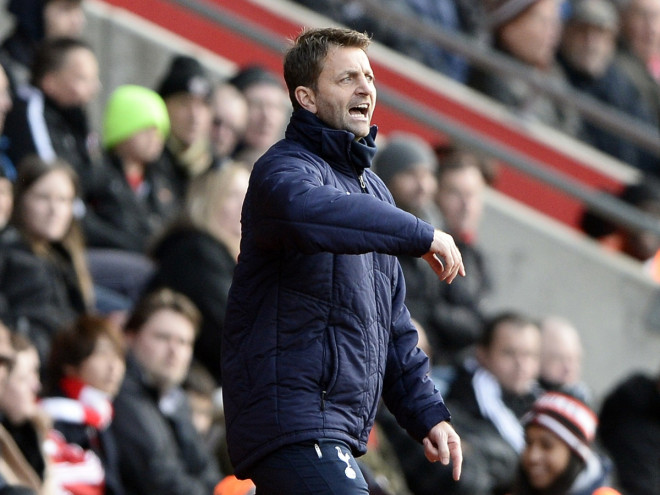 Tim Sherwood has slammed former Tottenham Hotspur manager Andre Villas-Boas for surrendering matches too often while in charge at White Hart Lane.
The Portuguese boss was shown the exit door by Spurs chairman Daniel Levy in December after the north London club suffered a 5-0 defeat to Liverpool at home. Sherwood took over Villas-Boas' role at the club.
Spurs came from two goals down to register a 3-2 victory over Southampton in the league fixture at the Lane on Sunday. Christian Eriksen's double followed by a late winner from Gylfi Sigurdsson in the added time saw the north London side seal three crucial points against the Saints.
Sherwood has hailed his side's "never say die" spirit, which he believes was lacking under the guidance of the former Chelsea manager at White Hart Lane.
"A win like that is great for morale. The players look at each other and know they've all got that 'never say die' spirit," talkSPORT quoted Sherwood as saying.
"But I can't accept the capitulations. When Andre was manager there were too many capitulations and I've had a few, and I can't accept that.
"I want everyone to give everything all the time, I want 100 percent effort, and I want them to make sure they can't move when they walk off the pitch at the end of the game," he added.
Sherwood handed Mousa Dembele a place in the starting lineup. However, the midfielder was replaced by Sigurdsson as Spurs manager claims the Belgium international lacked energy.
The 45-year-old manager believes his side deserved a point against their 1-0 defeat to Arsenal in the last league fixture. Sherwood believes his men proved a point during their victory over Southampton.
"A lot of people write what they want about the players turning it in. They haven't turned it in, have they? Against Arsenal we deserved at least a point and we should have progressed against Benfica. [On Sunday], after 28 minutes, I didn't doubt them," Spurs manager explained.
"I have to be honest, I just think we needed to tweak it. We needed a bit of energy in the midfield. Mousa [Dembele] lacked energy in there, he hadn't trained all week. Gylfi gave us energy," he added.