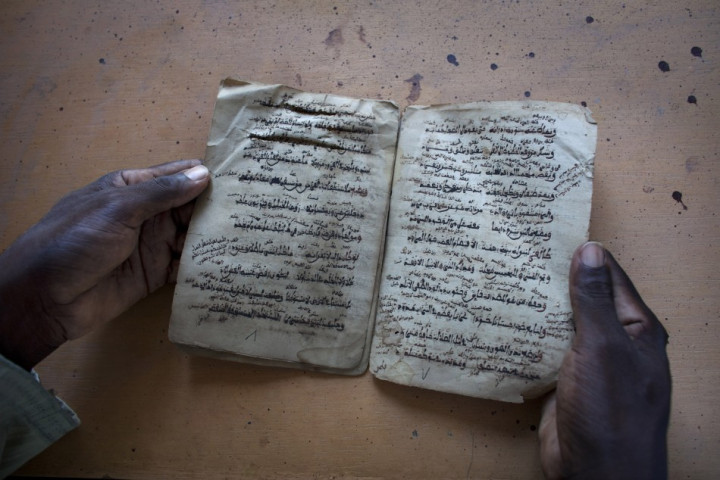 The vast majority of the priceless ancient books and manuscripts held in a Timbuktu centre have been saved by archivists and librarians who smuggled them before Islamists torched the library last week, a curator said.
More than 20,000 manuscripts have been moved out of the South African-sponsored Ahmed Baba Institute by May last year and sheltered in the capital Bamako.
"A vast majority was saved... more than 90 percent," Shamil Jeppie, Timbuktu Manuscripts Project director at the University of Cape Town, told AFP.
Another researcher, Mohamed Mathee of the University of Johannesburg, told eNews Channel Africa that "most of the manuscripts are OK". "These manuscripts are with families and are safe," he said. Some reports suggest that residents hid manuscripts by burying them in the desert.
As part of the Sunni Salafists' extremist policy, centuries-old shrines of Sufi saints have been demolished during their nine-month rule. The Sunni Islamists reject the worship of saints that is part of the Shia and Sufi tradition.
Jeppie said that it is not clear how many manuscripts are still in Timbuktu, a UNESCO World Heritage Site, but many of them are kept at the University of Bamako. "Archivists and librarians associated with the Ahmed Baba library in fact over the months of the occupation worked to take the manuscripts out, to conserve them and hide them in Bamako," he said.
As many as 25,090 items of handwritten manuscripts, some dating back to the 14th century, were safely removed from the library.
The Ahmed Baba institute, named after a Timbuktu-born contemporary of William Shakespeare, was torched by Islamist rebel fighters before French and Malian troops sealed off the city.
Along with South Africa, Libya's Muammar Gaddafi was involved in efforts to revive the fortunes of Timbuktu's Ahmed Baba centre. Libya planned to build a luxurious 100-room resort to hold academic and religious conference.