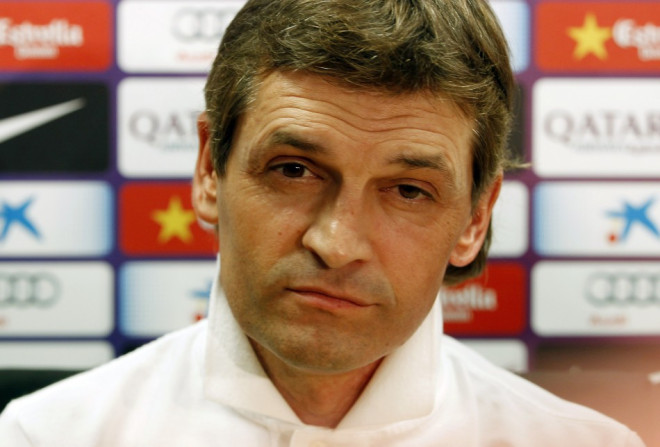 Football's biggest stars have come together to send messages of condolence for Tito Vilanova, who lost his battle with cancer today at the age of 45.
Vilanova died in a Barcelona hospital, a day after undergoing emergency surgery to treat gastric complications arising from his cancer. His death has stunned the football world.
Manchester United goalkeeper David De Gea led the tributes, tweeting:
"A very sad day, Tito Vilanova went but we still have his fight's example. DEP [descanse en paz, or rest in peace] a big hug to family and friends!"
Luis Suarez sent his own brief tribute, writing on Twitter: "Rest in peace Tito. All my support and strength to his family & friends."
While Mesut Ozil sent a simple "R.I.P. Tito Vilanova" in response to the news, former Arsenal midfielder Cesc Fabregas, who played under Vilanova at Barcelona, wrote a longer tribute:
"Tito, thanks for all you have given to football and Barca. All fans love you and are eternally grateful.
"Personally, I met you 14 years ago and I can say that people like you are very rare. Thank you for always trusting me to help me improve and overcome personal and professional obstacles.
"All my condolences to Montse, Kelly and Adrian, and the rest of you family and friends.
"We will always keep a place for you in our hearts. Rest in peace Tito."
Chelsea goalkeeper Thibaut Courtois, who is currently on loan at Atletico Madrid and faced Vilanova's Barcelona in La Liga, sent his own tribute on Twitter, which read: "Much strength to the family and friends of Tito Vilanova in such a hard time. My sincerest condolences."
Even Jose Mourinho, who once poked his finger in Vilanova's eye, responded with a tribute, writing: "....On behalf of everybody at Chelsea Football Club I send my deepest condolences at this most difficult time."