TJ Dillashaw has fired back at bantamweight champion Cody Garbrandt amid claims that the latter has footage of him getting knocked out in training.
The duo used to train together at Team Alpha Male (TAM), however, Dillashaw departed in October 2015 to follow head coach Duane Ludwig to Elevation Fight Team, with bad blood rising between the two camps ever since.
With Dillashaw now challenging "No Love" for his bantamweight title at UFC 213, the two have already gotten into a war of words.
A recurring theme in the rivalry is Garbrandt claiming to have footage of knocking out the 31-year-old in training when they were teammates. The former bantamweight champion had previously said he neither believes it exists nor cares about the video.
However, Garbrandt has claimed that TMZ is ready to offer $50,000 (£39,000) for it and Dillashaw reiterated his stance.
"I told him to go for it, release it," he said on the latest UFC Unfiltered podcast. "Because for one I don't believe it. And even if he did, I think it's petty. I think they're reaching."
"We put this time and sweat and tears into the gym, and he's got this one clip of him doing good? What about the 70% of the time that I was doing awesome that [Justin] Buchholz has footage of. I could care less what happened then.
"I get to make, on pay-per-view, some footage of me beating Cody's ass that the world's going to see. I'm going to make a lot more than him selling [the video] to TMZ."
Garbrandt recently made an Instagram post and said he would try and get as much money as he could for the video and then donate the winnings to any charity of Dillashaw's choice.
"Hey Dillashaw, let's put an end to all this," Garbrandt wrote in the post. "I'm going to go out and get as much money as I can for the video of me knocking you out, how about you pick a charity that you want to support, and I'll donate 100% of the proceeds to that charity."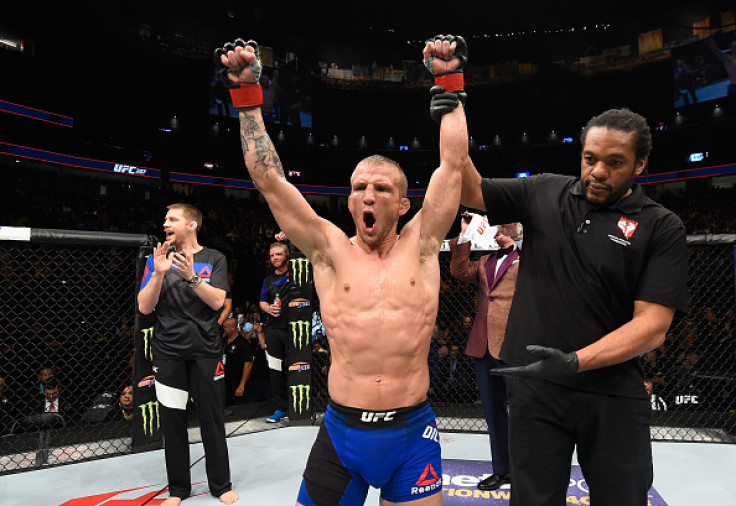 Dillashaw also responded to that by taking a jab at Garbrandt not having a father while growing up: "The charity should be something with kids without fathers so they don't grow up to act like Cody."