Georges St-Pierre has acknowledged that ring rust could be a factor in his fight against Michael Bisping, but said that it will not be an issue for him.
The former welterweight champion is expected to face Bisping for his middleweight title sometime this year with no date announced as of now.
With "GSP" not having fought since November 2013, many believe that almost four years away from the octagon will have its toll on St-Pierre.
However, the Canadian, who has a 25-2 record in MMA, thinks that his experience will negate any ring rust that he may occur in his bout with "The Count."
"I believe in ring rust," St-Pierre said, as quoted on MMAFighting. "People say there's no such thing but I believe in ring rust. It will be an issue but I'm a very experienced man. I'm one of the guys that's spent the most time in the octagon in the UFC, maybe the most, I'm not sure in terms of time."
"I think because I have a lot of experience, the more time I will spend as the fight goes, the more comfortable I will be. For me, it will be very important [at] the first second of the fight. That's when I will have to be very aware, very careful. That will be the most dangerous moment for me because when you have ring rust, that's the hardest part of the fight.
"When you just step in and the fight start, that's where the ring rust comes from, the difficulty of adaptation. But after a few minutes, I will be back to normal."
The 35-year-old will also be competing as a middleweight (185 pounds) for the first time, having always fought in the UFC as a welterweight at 175 pounds. The move up is uncharted territory for St-Pierre whose 5ft 10in frame makes him one of the smaller middleweight fighters in the division.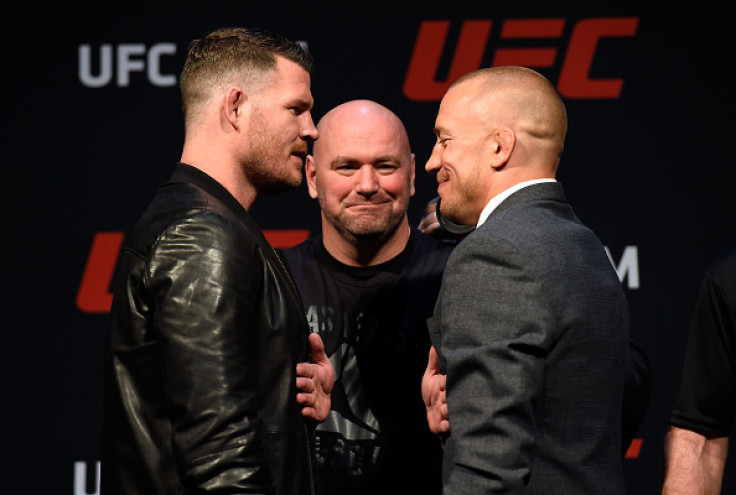 "When I knew that we were going to fight Michael Bisping, when I signed it, that's when I decided to try and put [on] a little bit more weight," he added. "I won't be able to put [on] a lot because I'm a natural guy but I'm already a little bit bigger than I was. I'm the biggest I've ever been, right now, in my life. Bisping will still be bigger than me but I'm confident it will help...
"It's not my natural size. I've never been that big in my life but as a man, I'm gonna be honest, men want to have bigger muscles. They want to be big, so it's a good thing. I'm happy to be a little bit bigger.
"This is not the weight class I'm used to competing at, but for that fight, I want to make history against Michael Bisping. It's a guy that I want to fight and he wants to fight me. It's the guy with the highest stock right now and he's the man to beat, so that's why I'm doing it."
St-Pierre has repeatedly made his intentions clear of making history in his second run in the UFC and a win over the Briton would make him just the fourth fighter to win titles in two different divisions.
However, "Rush" may be targeting a third belt as predicted by Bisping with St-Pierre's coach, Freddie Roach revealing that he wants a fight with Conor McGregor.