"Raging" Al Iaquinta is not happy with the UFC or president Dana White for their bonus system following Fight Night 108.
Iaquinta returned to the octagon after two years following injuries and a contract dispute to put away veteran Diego Sanchez in the first round via knockout, taking his MMA record to 13-3.
However, the lightweight fighter was not pleased when he heard he would not receive a bonus for his knockout, with Mike Perry instead claiming it for his devastating elbow knockout of Jake Ellenberger.
"Just not winning the bonus," Iaquinta said on The MMA Hour. "I don't know if they didn't give it to me because I really didn't deserve it or they didn't give it to me to kind of shaft me, you know? 'Cos they said in the past I wasn't eligible to win bonuses and maybe they're just sticking it to me."
"I don't understand how everyone just thinks that's normal, Fifty-thousand dollar bonus — a bonus is like a little something extra. Fifty-thousand dollars is like three times some of these guys' pay. That's not a bonus. That's like life-changing stuff.
"And oh, it looks great. But guess what? That's their little way to control you. You've got to suck up to the man. You suck up to the man, you get on the mic, you thank Joe Silva, 'thank you guys, you guys are the best, thank you Dana White, thank you Lorenzo Fertitta,' and those are the guys who get the bonuses. So it's their little way. Like, 'kiss my a** and I'll give you a little scrap.'"
The New York native claimed he may quit fighting following the bout as it is not worth the risk to his body given his pay. Iaquinta, who has been selling real estate, then revealed when he was suffering from a knee injury, the UFC did nothing to help.
"The UFC have done nothing," he added. "They've done nothing for me. They left me high and dry, I had to beg them for knee surgery."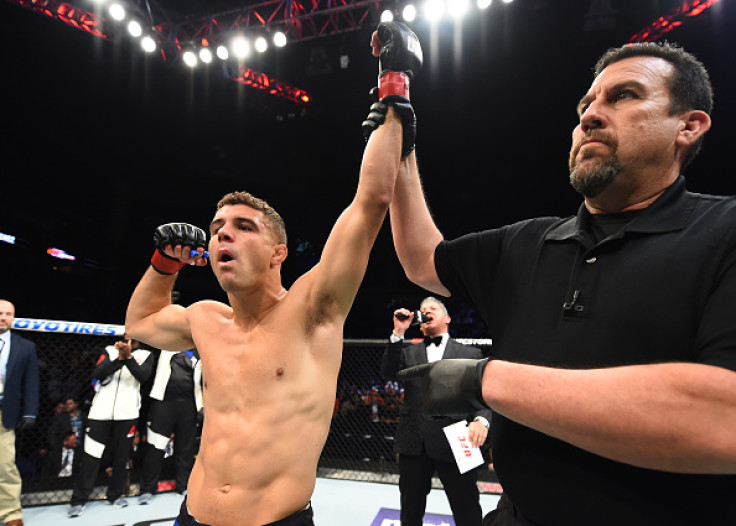 Iaquinta also took further aim at White for his comments on UFC 208, where he stated that the highlight of the night was his plane ride home.
"Dana White has done a lot for this sport, but he's not gotten one injury from this sport," Iaquinta explained. "And for him to say, 'the best part of UFC Brooklyn was the flight home' — you're on a private jet, bro. Shut the f**k up. You're on a private jet."
"Most people, that would be the highlight of their life. Forget the night. You're on a private jet, of course it's the highlight of your night. Two guys are fighting in a cage, getting hurt. Jim Miller probably couldn't [walk]. [White] owes an apology to all those motherf*****s. That's some bulls**t. Shut your f*****g mouth."