Australian authorities have said they will look into the case of a 95-year old Perth woman – dubbed 'Indiana Joan' – who has been accused of looting ancient artefacts thought to be worth around A$1m (£572,000, $762,000) from countries including Egypt, Jordan and Palestine.
Joan Howard, a former nurse, gave an interview to Australian newspaper The West Australian earlier this month in which she proudly boasted about her adventures during the 1960s and 1970s as she accompanied her husband – an Australian diplomat for the United Nations – around the Middle East.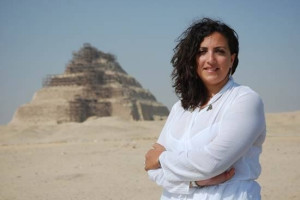 During this time, Howard volunteered on various archaeological digs with British and American researchers, using her diplomatic freedom to search for antiquities.
She said she is now in possession of numerous objects, including a precious Egyptian funerary mask, Phoenician and Roman weapons, a 40,000-year-old Neolithic axe head, as well as various coins, seals and jewellery.
She kept her story quiet until the interview with the newspaper earlier this month. "You don't go round saying 'I've been in a tomb,'" Howard told The West Australian.
In response to the article, Monica Hanna, an archaeologist from Egypt's Heritage Taskforce posted an open letter on Facebook to Neil Hawkins, Australia's Ambassador to Egypt, demanding that an investigation be carried out into Howard's collection of artefacts.
"It is not acceptable that Mrs Howard behaved as a pirate and appropriated from the different archaeological sites," Hanna wrote. "Mrs Howard has broken all possible laws taking advantage of her diplomatic status."
Hanna said that the "celebratory tone" of Mrs Howard's story sent out a very negative message, especially given the large amount of looting that has taken place at Egyptian archaeological sites in recent times.
"These activities decontextualize the cultural heritage and transforms the archaeological finds from historical objects to mere aesthetic artefacts," she wrote.
"The illegal market leaves the Egyptian cultural heritage with holes that cannot be filled, and many stories that cannot be told about the past. We need to counter the exact image Mrs. Howard has presented in her article for the safeguard of not only Egyptian heritage, but also world heritage in general.
Hanna thinks that the objects should be repatriated to their home countries if they are found to have been removed illegally.
Australia's Department of Foreign Affairs and Trade said it was looking into the matter.
A spokesman for the department said: "Australia implements its obligations under the UNESCO Convention on the Means of Prohibiting and Preventing the Illicit Import, Export and Transfer of Ownership of Cultural Property (1970)... this includes the return of foreign cultural property which has been illegally exported from its country of origin and imported into Australia."
Hanna says she has received informal correspondence from the Australian embassy in Egypt but no official response.