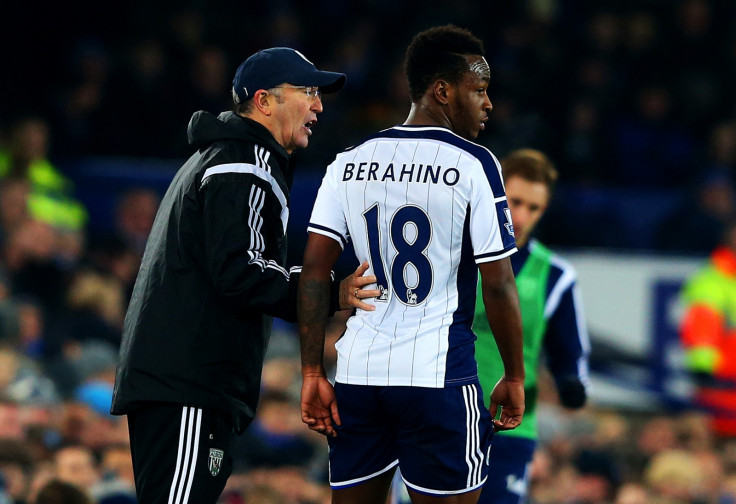 West Bromwich Albion manager Tony Pulis says the summer transfer window has been "messy" for The Hawthorns outfit after conforming a bid for Saido Berahino from Tottenham Hotspur had been rejected. Fifteen players have come and gone from the Baggies this summer and Pulis believes there will further activity between now and the deadline on 1 September.
James McClean, James Chester, Rickie Lambert and Salomon Rondon – for a club record fee – have all arrived during the summer, but all the talk now surrounds the future of Berhaino. The England youth intentional netted 20 goals in all competitions last term but uncertainty hangs over the ex-Peterborough United loanee.
Despite signing Clinton Njie from Lyon on a five-year deal, Mauricio Pochettino is keen on adding further players to his first team squad before the end of the window. Harry Kane went off injured during the 2-2 draw with Stoke City, with Tottenham notably lacking a focal point in attack after the removal of the England international.
Roberto Soldado has joined Villarreal, leaving Tottenham with three recognised forwards. With the strain on Kane already beginning to show, the club could yet continue their pursuit of Berahino. The Evening Standard understand that the White Hart Lane club will make a second bid worth £22m ($34.4m) for the player in an effort to force through the move before the end of August.
Pulis, who continues to face questions regarding Berahino's future and Tottenham's interest, admitted frustration with the club's transfer policy – with the Welsh boss's comments mirroring the reported reasons for his departure from Crystal Palace at the start of last season.
"I am concerned that we haven't hit the button yet," he told The Mirror. "We are still trying to find our way. It has been a little bit of a messy window for us. There is loads of stuff going on behind the scenes you don't really want going on. We are trying to bring players in and then players will go out as well.
"As soon as we get through the window we can settle down and then start preparing the team the way we want to prepare it for the season. It is an unsettling period and as I have said before the window should close earlier and then everybody should concentrate on the football."