Bale Taunts Wenger Ahead of Crucial North London Derby
Gareth Bale has heaped further misery on Arsenal manager Arsene Wenger by claiming that Tottenham are now the dominant force in north London.
Tottenham can move four points clear of Arsenal if they defeat West Ham on Monday night and will also move into third position after Chelsea suffered a 2-0 defeat to Manchester City at the weekend.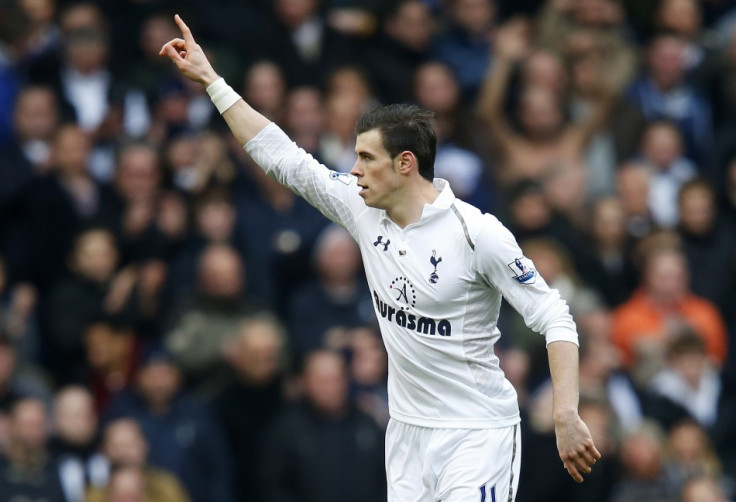 While Wenger has come under increasing scrutiny for his failure to challenge for major honours and for failing to find adequate replacements for his star players, Bale believes Tottenham have once again improved and that their squad is now superior.
"I think five or 10 years ago Arsenal were always miles ahead of Tottenham. But that has changed in recent years," Bale told The Sun. "Over the past few seasons we have closed that gap and I think now we have overtaken them on the pitch. I think we have the stronger squad.
"Hopefully we can continue to do that as a club off the pitch as well, with the new stadium that is being built. But on the pitch and as a team now we are a lot more consistent and as a club we're moving in the right direction.
"Arsenal may say they are still ahead of us. But whatever people's opinions I don't think anyone can deny we are up there fighting with them on merit now."
Tottenham did suffer at the hands of Arsenal earlier this season when they were beaten 5-2 at the Emirates but there is a renewed hope with fans that they can exact revenge at White Hart Lane next week.
Spurs remain in the driving position to achieve Champions League football, a competition which brought Bale to a whole new audience when he excelled against the likes of Inter Milan and Real Madrid.
The 23-year-old has once again been in sensational form this season which he believes is largely down to his new free-role under Andre Villas-Boas.
Yes, I am probably in the best form of my career. It's probably the most I've enjoyed my football as well," added Bale. "Since I moved position over the last couple of years I've been getting double-marked on the left so it's been frustrating.
"Now I've been able to come inside with this free role and it's enabled me to enjoy my football, have more space and be able to do more things. All great players have had to evolve their games. When people become aware of you they try to stop the ball getting to you and double up on you.
"You always want to improve your game anyway and this has forced me to do so. It's been a challenge, I really enjoy doing it and I think I'm seeing the rewards now.
"I think the manager has to take a bit of credit. By giving me that free role he's given me the confidence to do what I'm doing now. I just want to keep doing it and keep learning. Hopefully there's still more to come."
Bale has scored 13 Premier League goals this season and will be desperate to add to that tally against Arsenal and inflict further misery upon Wenger and the Arsenal supporters.
© Copyright IBTimes 2023. All rights reserved.